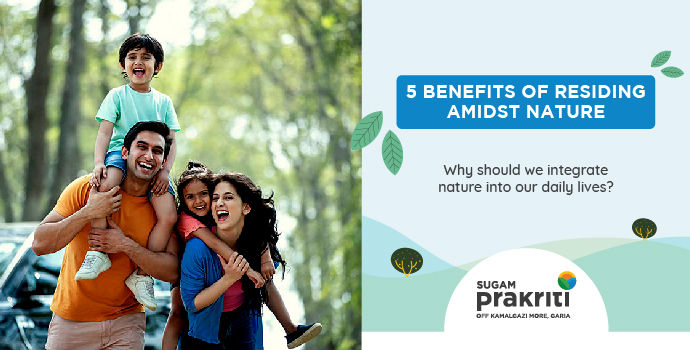 5 Benefits of Residing Amidst Nature
Why should we integrate nature into our daily lives?

Our continuously evolving necessities are tracing us back to the saying "Man is a species of
Nature". People are now looking for homes that lie in the lap of nature and are opting for
apartments with a perfect balance of modern amenities and a green space. Sugam's recent
real estate project – Prakriti, with its rendition of a modern, comfortable lifestyle thriving in
abundant greenery, pays tribute to the charm of nature.

An elegant home in the best of locations is still not completely wholesome if it's cut off from
nature. It may be adorned with multiple modern amenities and luxury that enhances your
lifestyle but living in the midst of nature's freshness has its own advantages as a natural
backdrop with greenery adds various positive elements to our day.

Recent occurrings in the world, like a global pandemic, and the stress it has induced on
individuals has brought forth the importance of a healthy, organic lifestyle. It is almost a
necessity to choose a home set in natural surroundings over a concrete jungle, and not take
the benefits of a fresh environment for granted.

Residing in natural surroundings has multiple perks:


A Healthy Option
Being enveloped in nature has a pragmatic effect on the physical and mental health
of an individual. A pollution-free environment ensures that one is shielded from an
array of diseases, whereas the various elements of nature are destressing and a
relaxation aid for the mind and soul. This guarantees a wholesome, happy life.


More Time Outdoors
Spending more time outdoors is not something we normally dedicate time to.
Choosing a residence surrounded by nature offers opportunities to spend relaxation
time nowhere but in green surroundings as the beauty of nature is tempting in the
most positive way.


Improved Lifestyle
A home amidst a natural setting also shrinks the overall energy consumption, making
the house feel naturally cool and dismissing discomfort due to heat; showing vivid
improvement in the resident's lifestyle. Individuals surrounded by greenery tend to
feel fresh, positive, and healthy.


Reduced Lethargy
Study shows that the colour green triggers the brain to be more pro-active. Staying
close to natural greenery makes you upbeat with a constant surge of energy and
enthusiasm that allow you to carry out tasks and activities, effortlessly.


Extended Lifespan
Living in natural surroundings is a step towards good health and well-being. It offers
protection against several diseases, builds immunity, and strengthens from within. It
prolongs our life while making them healthy, happy, and enriching.

If you are looking to integrate the perfect balance of all these attributes into your lives, find
your next abode at Sugam Prakriti. Cocooned from the city rush, these luxurious 2 BHKs
and 3 BHKs are planned with versatility and are fully equipped to pamper and de-stress you.
Sugam Prakriti realises your dream of owning a home where thoughtful amenities meet
recreational activities with a touch of the outdoor.
A trusted name in real estate for several decades, Sugam Group joins hands with the city's
renowned architect Sougata Mitra to make Sugam Prakriti a perfect combination of
dedicated design excellence, and sophistication.
Choosing Sugam Prakriti to be your next home will ensure a balanced lifestyle, complete
with the best of times.