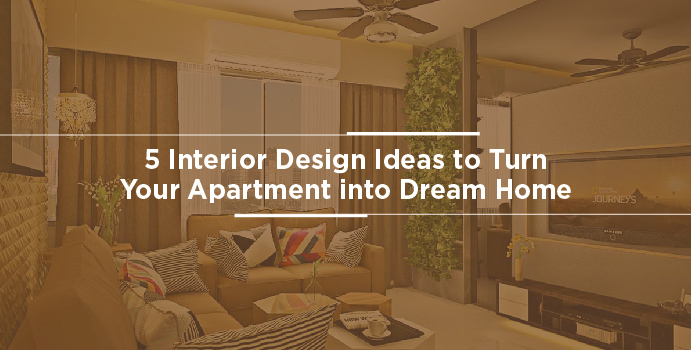 5 Interior Design Ideas to Turn Your Apartment into Dream Home
Finding our dream home does not end with tapping on the right location, finding a spacious apartment or selecting a residential project with an excellent set of amenities and facilities. While such factors are important to foster a better livelihood, we cannot deny the fact that a house truly becomes our dream home when it matches the image of the ideal 'dream home' in our mind.
With that being, when buying a flat in Kolkata, most of the projects will provide you apartments matching the above-mentioned criterion. However, what about the design of the apartment? In most cases, as a homebuyer, you are responsible for incorporating the right type of home interior design ideas. And let's be very honest, no matter how spacious your flat in Kolkata looks, we cannot deny the fact that apartments are always space-challenged when compared to a standalone house. Hence, in this blog, we will share with you some smart home interior design ideas that will not only make your apartment look stunning but also infuse it with a spacious appearance. Hence, stick to this blog if you are confused about decorating your home right!
Smart Interior Home Decor Ideas for Your Flat in Kolkata
Let Go of that Huge Dining Table
Do you know small round dining tables are not only great for breakfast but for all types of meals? Also, for a flat in Kolkata, these round tables will also leave you more space. Hence, it's time to ditch that huge dining table and get home, a small round one to enjoy the best of both worlds- space and functionality.
Introduce a Daybed
This trick is especially useful if you have an extra room or a guest room in your apartment. Adding a daybed as a home interior design idea will make your guest room or even your bedroom double the size.
TV on the Wall
Most of us do not want to compromise with the size of the TV as it adds a mini theatre-like vibe to our apartments. While we totally understand your love for large TVs, you can mount them on the wall to save space. This will not only make your room look edgy and classy but also provide you with enough space for other necessary furniture.
The Double, the Better!
You need to act smart when it comes to choosing furniture for your flats in Kolkata. Instead of choosing huge pieces of furniture, purchase the ones that can be used for various purposes. For example, opt for a table that can be used as a desk as well as a dining table. Purchase a deep sofa that can double as a bed. Such types of furniture are specially made for modern apartments, thereby living up to your expectation for a dream home.
Mirror Mirror on the Wall!
It is one of the oldest tricks to make your apartment look elegant and spacious. Adding mirrors to the rooms of your apartment will make the rooms look spacious with light and air.
Neutral is the Key
When painting your flat in Kolkata, opt for calm, soothing colours as they will trick your sight and brain into thinking that the apartment is spacious. You can also add a variety of textures or add contrasting shades from the same colour family form preventing the space from looking all flat and dull.
Apart from such home interior decoration ideas, you can also opt for good lighting in all your rooms, add fairy lights in selective corners, opt for well-designed curtains, vibrant coloured cushions and sofa covers, wind chimes and more. As they say, 'home is where the heart is', make sure to build the space in such a way that no matter where you go, you will always long to come back to your dream home.