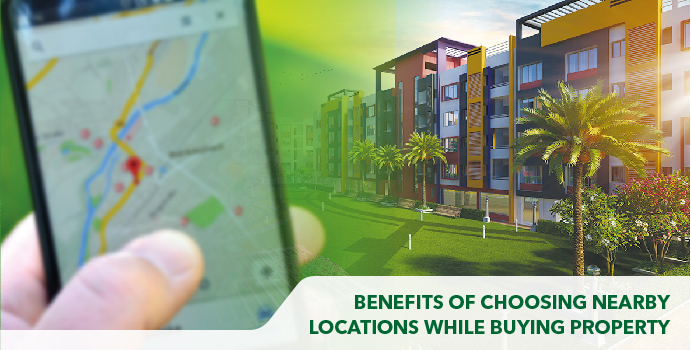 Benefits of Choosing Nearby Locations While Buying Property
Location. Location. Location.
This is something that every builder and buyer emphasize on and put above all else. Of course, there is a strong reason behind this. Those who have purchased residential flats in Kolkata before will be familiar with one simple thing – you can change your interiors as much as you want but you can't change what's outside. Being the only permanent thing in your long term investment, it is something that cannot be underestimated and taken lightly.
Tapping on a great location translates into profitability for years to come.
However, there are a few areas of interest such as:
Quality of neighbourhood
Status of safety and security
Access to public facilities
Views from the apartments
Distance from educational institutions
Options for daily commuting
Healthcare centres nearby
With the improvement in the city's infrastructure, fresh possibilities for new homes are opening up for a variety of property builders in Kolkata. Flyovers, expansion of the metro facility and other developmental activities have made other locations shine in recent years. Even still, it is important to focus on nearby locations and stay close to get the best that Kolkata has to offer.
Here's why there is a major preference behind this.
Stay Connected With Ease: Why Choose Central Locations that are Nearby?
The beauty behind a nearby location lies in the fact that it combines everything you need at one destination. Whether flats near Tollygunge metro station or near prominent landmarks, location is of prime importance This is important since homebuyers are always looking to get their money's full worth.
After all, comfort and convenience are the end goals behind every purchase we make. A residential property, in that case, shouldn't be any different.
However, this is solely based on the real estate builder that you choose.
Property builders in Kolkata have their own set of values and core beliefs when it comes to creating projects. Consequently, the standard of living will vary and so will the features. The perfect example of this is Sugam Homes and two of its popular projects: Morya and Habitat.
Let's get familiar with these projects with a special focus on its location advantages.
An International Style of Living Now in Tollygunge
Introducing luxury in its truest sense, Morya represents the finer things in life and all the conveniences it denotes. This project differentiates itself by virtue of its ability to provide the modern style of living that most are in pursuit of. Offering spacious and well-crafted 3/4 BHK flats near Tollygunge metro station, life takes a turn for the better when you experience the best of both nature and elegance at one destination.
What also distinguishes this project from others is its splendid positioning in the city. Set in the premium address of South Kolkata, schools, medical centres and entertainment centres all lie within easy reach of these flats in Kolkata. In fact, you can also expect an unparalleled view of the Tolly Club Golf Course from the comforts of your balcony.
With these at hand, take a look at the major highlights of this residential project:
Sri Sri Academy and South City International School close by
South City Mall and Lake Mall just a short drive away
RSV Hospital and M.R.Bangur Hospital easily accessible
An award-winning project with 6 laurels to its name
80% open space offered within project premises
Vaastu compliant interiors made for comfortable living
Advanced facilities such as swimming pool, gym, spa, etc.
Ample green cover with gardens and lawns inside
Using the premium location of Tollygunge as its backdrop, Morya is more than just a project created by property builders in Kolkata. Rather, it is a celebration of life's endless beauty and the wonders of family living, Adhering closely to the same principles, Sugam Habitat is another creation that strives to deliver new levels of comfort to its residents.
A Life of Pure Luxury and Bliss Near EM Bypass
Renowned as a pristine and coveted address for a home, the region of EM Bypass has always stood out due to the blessings it offers to daily life. Positioned near it, this project makes full use of the residential area with a touch of expertise by Sugam Homes. You'll find that its flats in EM Bypass are ready to offer seamless connectivity to the city's corners with ease.
Its strategic positioning keeps families at the centre of modern life. Inside, however, you'll find that its 5.3 acres of land offers an urban paradise that paves the way for healthy and happy living. Offering 2, 3 and 4 BHK flats in Picnic Garden, luxury now becomes an everyday affair and relaxation is no longer a dream.
Such is life when you choose Sugam Habitat.
Take a look at its features and see the wonders for yourself:
Modern clubhouse amenities like indoor games room, gym, etc.
Maa Flyover guarantees a smooth commute to several areas
Top medical centres like Fortis and Ruby Hospital are close by
An award-winning project with 4 laurels to its name
Schools like Modern High fall within easy reach
Over 65% of open space can be found inside the project
Lush greenery and a natural water body available inside
Fresh, eco-friendly environment for a healthy lifestyle
As you can see, both these projects are more than the locations they are set in along with some stunning features of their own. Bringing the city to your doorstep, you can expect worldly experiences within the comforts of modern flats in Kolkata along with an easy style of commuting. Assuring maximum indoor and outdoor convenience, these projects should definitely be at the top of your list.
So why settle when you get so much more?
Give your family nothing but the best with one of the top property builders in Kolkata.