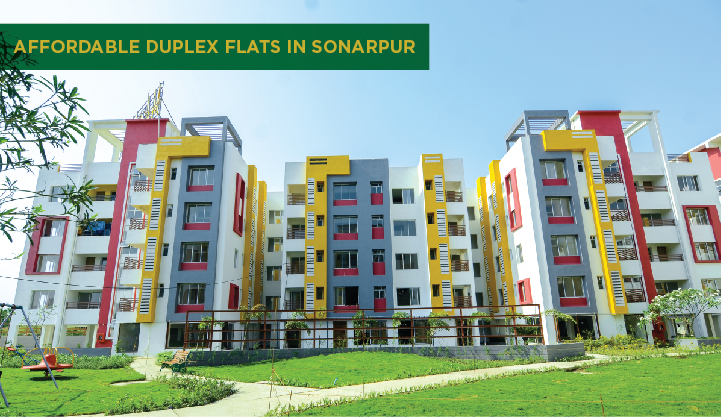 Your One Stop Destination to Book Duplex Flats in Sonarpur
Imagine living in an apartment with a living room, balcony, washroom and bedrooms spread across two floors? Sounds exciting right? However, it is not quite easy to find a duplex apartment in Kolkata as most of the projects focus on providing the conventional ones.
However, Sugam Homes has made sure to actualize this concept. Understanding the requirement of the new age buyers, Sugam Homes has come up with duplex flats for sale in Sonarpur that will not only provide you with a stylish home but convenient lifestyle due to other features. Can't wait for us to reveal the name and more about the project? Continue reading to know more about the project.
Discover the World of Sugam Serenity
Step inside Sugam Serenity where you'll be welcomed by a tranquil environment amidst greenery and fantastic botanical arrangement. With a calm and soothing environment extending to you, you'll immediately feel an essence of mental peace away from the city cacophony.
With flats for sale in Sonarpur, this ready project will provide you with duplex apartments, thereby fulfilling your desire to own one. To begin with, get access to 2 and 3 BHK flats in Sonarpur which looks stunning with an apartment layout ensuring a comfortable stay for your lifetime. The apartments are spacious, spread across two floors and consist of a good ventilation system, thereby enabling proper entrance of sunlight and air in every room. Additionally, these apartments are adjacent to a garden spread across 16000 sq. ft. of land, thereby defining your home with the quintessential dose of nature.
What's Next? The Project Facilities & Amenities
Sugam Serenity is designed to bring the perfect concoction of nature and modern features, thereby carving out the path towards a better lifestyle. Do you know that the project has some stellar facilities and amenities? Apart from duplex flats for sale in Sonarpur, this masterpiece by Sugam Homes is defined by features like:
● 10,000 sq. ft. of Premium Clubhouse
● Well Equipped Gym & Yoga Studio
● Garden-Facing Grand Banquet Hall
● Library & Home Theatre
● 2000+ sq. ft of AC hall
● Swimming Pool with Deck
● Indoor Games Room
The Excellent Location
What can be better than living in a location that will bring you the best of urban lifestyle at your doorstep? With a home at Sugam Serenity, you are sure to experience a convenient lifestyle while meeting your day to day requirements. With 2BHK flats in Sonarpur, the location is defined by features like:
Transport
Kavi Nazrul Metro Station- 4.2km
Kamalgazi More- 1.9km
Healthcare Centres
Peerless Hospital- 4.9km
Medica Super Speciality- 6.8km
AMRI Mukundapur- 6km
Educational Institute
Swami Vivekananda Institute of Management & Computer Science- 750m
Future Institute of Engineering & Management- 1.5km
BD Memorial International School- 2.3km
Shopping Malls
Brand Factory at Sugam Sudhir- 2.4km
Hiland Park- 5.1km
Big Bazaar at Wood Square Mall- 2.3km
Hence, Sugam Serenity is not all about stunning duplex apartments, modern features and greenery. The project will also provide you with a convenient lifestyle with best of features within the vicinity. Come home to Sugam Serenity and join the 130+ happy families for happy days ahead.