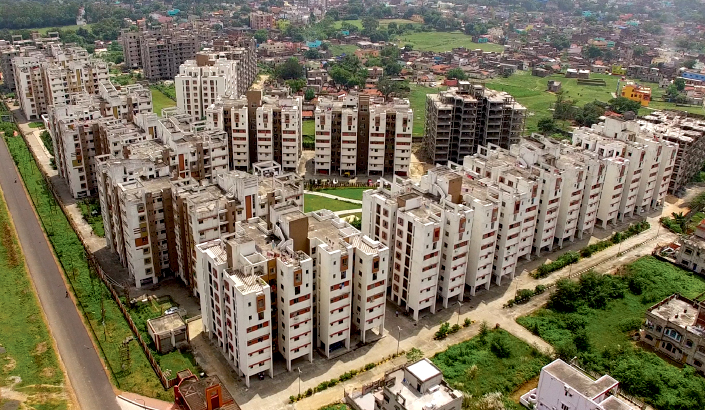 Now Book Flats in Asansol with Sugam Park within 20 Lakhs
Do you wish to invest in a residential project in Asansol?
Kolkata is developing with each passing day. It is developing even faster than you can imagine whose effects are visible in suburban regions as well. While the development is fostering the modern, urban lifestyle, we cannot deny the fact that the city is becoming overcrowded. Hence, some homebuyers wish to stay from this cacophony yet not too far away from the city. This is when buyers look for apartments in Asansol, Durgapur, Shantiniketan and other such nearby places. Apart from owning a new home, securing a property in such places also helps the individuals to make use of it for a weekend getaway.
Introducing Sugam Park with flats for sale in Asansol. The highest award-winning project in Asansol at National Level, Sugam Park is a brainchild of Sugam Homes. A residential project where homes are defined by ultimate comfort quotient and a lifestyle filled with modern-day conveniences, here's why you should count on this project for a well-rounded lifestyle.
Redefine Modern Lifestyle with flats in Asansol at Sugam Park
What can be better than becoming a part of the popular township project in Asansol to lead the ideal lifestyle? Spread across 30 acres of land, Sugam Park is built within Kalyanpur Satellite Township Project, a planned zone in Asansol and is home to 2500+ happy families staying together. Imbued with best in class features under one roof, the project within the township will provide you with the true essence of convenient living.
To begin with, Sugam Park with flats for sale in Asansol is the largest housing project in this region. Consisting of 2/3 BHK luxury living spaces, step inside these apartments to discover the unmatched spaciousness and quality specifications defining a modern standard of living. These well-built apartments were constructed based on compact, contemporary ideas that will churn out a lifestyle matching your modern living standards. What's more? In spite of such high-end features, the price of these apartments starts from 18.54 lakhs which is incredible.
What Else Defines the Project?
Do you know that Sugam Park is outfitted with An excellent range of project amenities and facilities? Consisting of a grand clubhouse, these apartments in Asansol are complemented by a range of facilities through which you can indulge in various recreational activities. At Sugam Park, enjoy time with your close ones with features and activities such as:
Unique Facilities
30,000 Sq Ft Cricket Thematic Club House
1 Lac sq Ft Central Lawn
Yearly Rock Concert Exclusively for Residents
Periodic Tournaments & Games in the Club
24×7 Shuttle Bus Service
Other Facilities
Indoor Games Room
AC Home Theatre
Multipurpose Court-
Central Landscape Garden
Roof-Top Swimming Pool
Table Tennis
Gymnasium
Yoga/Meditation Room
Jogger's Track
Community Hall
Library
24×7 Security
What about Project Connectivity?
Sugam Park is extremely close to major transport facilities. From railway station to bus stand, the project will make sure to provide you with the ease of travelling to your destination. It is particularly close to Asansol Railway Station (1.9 km) and Asansol Bus Stand (2.3 km). It is also close to NH2 which is about 700 meters from the project. The project also has its own shuttle bus service exclusively incorporated for the residents. Additionally, stay close to commercial facilities such as:
Entertainment Zones
Educational Institutions
Dhaka N.C. Lahiri School – 0 km
Assembly of God Church School – 2 km
Asansol Engineering College – 4.2 km
Health Care Facilities
Are you still searching for apartments in Asansol? With Sugam Park, consider your search to end. With essential and luxury features under one roof, what can be a better address to your dream home for your lifetime?