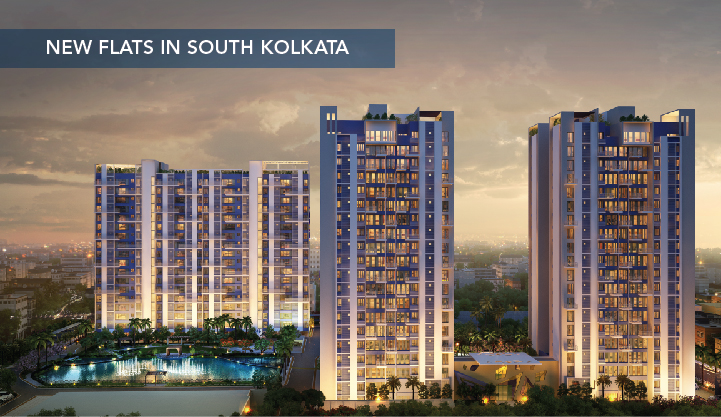 Book Future Ready AC Flats in Tollygunge with Morya
When you hear the name Tollygunge, what resonates in your mind?
To begin with, Tollygunge has been one of the posh locales in Kolkata for a long time now. Since the 60s or 70s era, Tollygunge was known to be the address of some of the most iconic personalities in Kolkata from politics, academics and entertainment world. It is the region where the famous Indrapuri studio is located. It also consists of the most important metro link in the city, enabling people to reach their preferred destination on time. Owing to such benefits encompassing the region, almost every real estate developer in the city builds a residential project here to provide home buyers with flats in Tollygunge.
With that being said, discover the ultra-luxurious world of Morya by Sugam Homes with flats in Tollygunge. An upcoming residential project defined by luxury, style and convenience at an affordable rate, Morya Kolkata is the premium address to provide you with a comfortable lifestyle for your lifetime. A hub of luxurious living spaces, unique amenities and common utilities, here's what Morya by Sugam Homes will serve you on your plate.
Morya- Your Address of Comfort & Convenience in the Heart of the City
Before we walk down the lane of Morya, Kolkata, let us first take a sneak peek of the developers. Sugam Homes was established with the objective to build happy communities across the city through their architectural spectacle. With 30 years of presence in the industry, the real estate master has built 25+ projects for 7000+ happy residents and has won 28 awards. Hence, owning a home built by these developers is indeed prestigious. With that being said, here's what you'll get from this new residential project in South Kolkata.
Air-Conditioned Apartments Built on Vastu Principles
Standing tall in the heart of the city- Morya, Kolkata, symbolizes a lifestyle of royalty and elegance. These flats in Tollygunge are shaping up with the usage of cutting edge technology to provide you with a home embracing a welcoming vibe. Get access to 3/4 BHK stunning AC apartments with striking structural layout, thereby oozing with comfort every nook and cranny. Soak in the city's skyline from your balcony while enjoying the panoramic lush-green view of Tolly Club Golf Course. Additionally, these new flats in South Kolkata are Vastu compliant as well, thereby providing you with much more than comfort and style, a home filled with good luck and prosperity.
With Great Homes Come Great Amenities
Inspired by the peacock which is a symbol of royalty, Morya has made sure to maintain the same through their wide range of class apart facilities and amenities. With the objective to provide you with a rich and vibrant lifestyle filled with recreational activities, Morya, Kolkata is outfitted with:
● Library
● Mini Theatre
● Gym & Spa
● Swimming pool
● Indoor games room
● Luxurious Swimming Pool
● Pleasant Walkway
● Jogging Track
● Exercising & Yoga space
● Banquet Hall
● Cafeteria
A Pleasant Project Layout
Step inside Morya, Kolkata to familiarise with a soothing environment. An IGBC certified project, comes home lush greenery and other elements of nature unlike anywhere else before. The project comes with 80% open space defined by a landscaped garden and natural water bodies with lily ponds. Now choose to take a stroll, jog or run amidst an environment set in the lap of nature.
A Location Providing You with a Convenient Lifestyle
With flats in Tollygunge, Morya by Sugam Homes will cater to all your needs- be it effortless travelling to various destinations or meeting daily requirements. From well-developed roads to impeccable metro links, to an abundance of buses, autos, cabs and trams to the local railway station, Tollygunge will provide uncountable commute options. Additionally, stay lose to reputed commercial facilities like:
Popular Schools:
● G.D. Birla Centre of Education
● Sri Sri Academy
Popular Entertainment Spots:
● South City Mall
● Tollygunge Golf Course
Popular Healthcare Centres
● B.P. Poddar Hospital
● CMRI Hospital
● S. V. Hospital
Other Facilities
● Spencer's
● Big Bazaar
● Cafes
● Restaurants
Hence, Morya is undoubtedly one of the best new residential projects in South Kolkata. With a world of goodness clubbed under one roof, Morya, Kolkata is the next big destination for the homebuyers to become a part of the most prestigious address in South Kolkata.