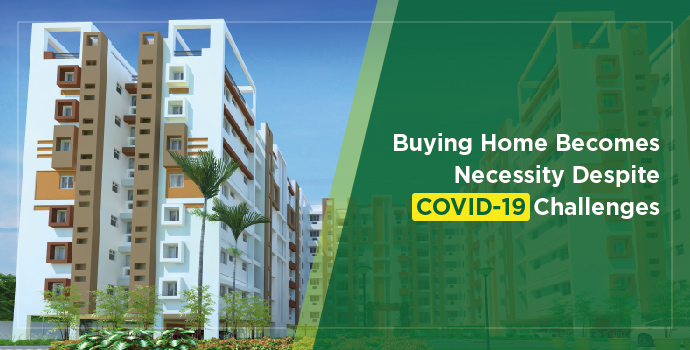 Buying Home Becomes Necessity Despite COVID-19 Challenges
The sudden outbreak of COVID-19 has left the homebuyers or the potential homebuyers with the dilemma- to buy or not to buy a new home? Hence, before contemplating any further or deciding to invest in a real estate property in the shadow of COVID-19, first, understand how the pandemic is affecting the Indian real estate sector.
Things You Need To Know About the Current Real Estate Scenario
Whether buying a home for the first time or fifth time, in every case, it is a huge financial investment which needs to be done correctly. To make things further convoluted, Covid-19 pandemic has made home-buying even more difficult. If your home buying plan has taken a set back while leaving you with questions unanswered, here's what you need to know first before taking the final decision.
Indian Realty Sector & it's Reality
Recently, the Indian realty sector has been struggling with a slow economy, inadequate credit and unfinished inventories and the recent Coronavirus pandemic has started to worsen things. The nationwide lockdown has stopped a majority of construction activities backed by a large number of labourers going back to their respective native. Such developments are giving rise to labour shortage, thereby projects taking more time to complete, thereby the real estate sector taking more time to recover.
With that being said, in spite of such unfavourable conditions, the Indian Government took the initiative to extend the registration and completion dates of all registered projects expiring on or after March 25, 2020, by six months. This move will relieve the stress prevailing in the real estate sector and upon the developers.
Additionally, the Reserve Bank of India has also taken the step to cut the repo rate by 40 basis points to 4% that will also allow some breathing space to the developers.
So, Should You Consider Buying a New Home?
With the outbreak of the pandemic, new opportunities have come to the homebuyers to unlock their dream home within their budget. In general, the aftermath of Covid-19 has made it crystal clear to us that it is extremely necessary to own a home and live a secured life rather than facing the uncertainties coming from the rented properties or the landlords.
With the Reserve Bank of India (RBI) slashing the repo rates by 0.75 basis points (bps), home loans have become significantly attractive, thereby encouraging or enabling the home buyers to invest in their ideal property. The steep cut has brought interest rates their lowest, between 7.20% and 8.05% for the first time ever.
For a homebuyer, this is the best opportunity to down his/her dream home without waiting any further. It is because the current home loan rates will enable the property buyers to save a considerable amount of money, thereby creating an asset for end-use or investment purpose. Moreover, the borrower will get to use the savings to apply for a top-up loan, also available at a lower rate of interest.
The saving can also be used to modify your new home to match your taste. That includes modifying the interiors design, purchasing new furniture and other such activities to make a living space feel yours. Alternatively, a lower interest rate will also enable the borrowers to avail a higher amount of loan, thereby enabling them to purchase a better home with excellent amenities and lifestyle facilities in a posh locality.
Real estate developers are also taking steps to help homebuyers own their dream home by giving attractive offers and discounts on their projects. For example, top real estate developers are providing incredible offers on their projects with luxury flats in Kolkata. Some of these projects will also provide ready to move flats in Kolkata, thereby further reducing the waiting time for the homebuyers.
Hence, buying a new home, in spite of Covid-19, is not only necessary but worthwhile as well. Given the attractive offers and the initiative taken by the RBI, what can be a better time to own a space that will not only provide you security but make you 'feel at home' each and every day.