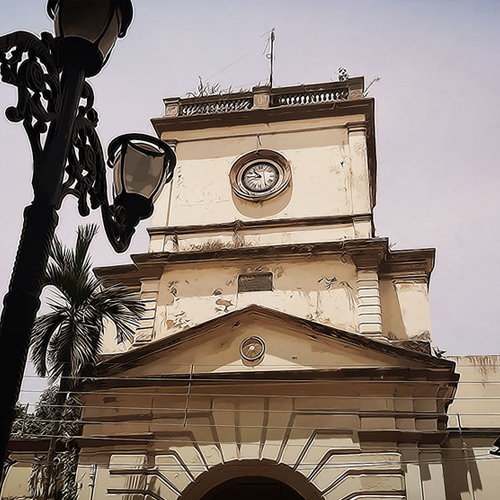 Clock Tower the Pillar that Tells Time
Considered to be a beautiful weekend destination, Chandannager, along the banks of Hoogly, is situated just thirty-five kilometers away from north Calcutta. It is said that the French people once resided there and thus Chandannagar is also an old French Colony. Among many tourist destinations of Chandannagar, Clock Tower is quite famous.
In a dilapidated condition and yet standing with pride the Clock Tower building withholds the gloires of the French people. This one storey structure painted in beige contrasting with maroon outlines, now serves as a police station. The single storey is extended in a bunglow style while from the middle arch structure rises the two storey long feature. In the center of that structure sits the age old clock from where the building derives its name. Indeed it is like a tall tower that says the time in roman numerical. And high above its head resides the cross of Christ.
The thin block design along the arch adds more to its beauty. Another old feature of the wooden windows painted in green can also be found. The great old banyan tree in front of the clock tower contributes to its picturesque beauty. Chandannagar is a peaceful place and the Clock towers is an addition to its serenity and tranquility.
Did You Know?
The French ruled over Chandannager even after the independence. It was after 1950 that Chandannagar become free and was added to Bengal.