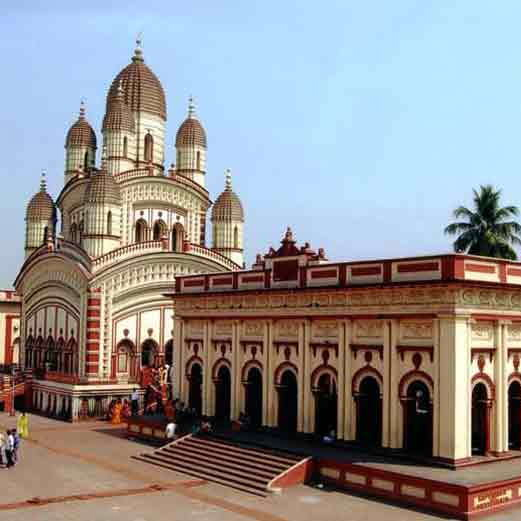 Dakshineswar -A Dream
It was just the night before my pilgrimage to Banaras was about to begin. Yes I could clearly remember that dream; only it was not a dream. It was real. The divine goddess was real. Her instructions were real.
Calcutta is my beautiful city. And with a river that flows with pride and people who loves simplicity, it would really be the best place to establish the temple of the divine goddess Kali. My people would not have to go to Banaras for pilgrimage anymore. They can find their peace here in the heart of the city. I, Rani Rashmoni, have devoted my life to the welfare of people and will continue to do so till by last breath.
Day after day passed and with a long journey of eight years, the Dakshineswar Kali Temple finally stood tall on the banks of Ganges. The temple is built in the Nava-Ratna feature that was famous in Bengal architecture. The three-storey building is dominated by the colour beige with a contrasting maroon the traditional burned brick, that adds to its beauty. The eight domed pillars on each corner of the floors surrounds the main high dome. With fine crafting on the exterior, the entrances are given the arched structure. An array of stairs leads to the main temple where sits the divine Bhavatarini.
Apart from the main building, I have also appreciated how the twelve temples of Shiva are built in the traditional aat-chala manner. Inside the temple premises, along with Maa Bhavatarini, Lord Vishnu and Radha-Krishna are also worshipped.
Dakshineswar will no more be just an area of Calcutta; it will be a place where Bhavatarini resides. And now when the temples responsibility is on the devoted shoulders of Ramakrishna Paramhansa, I can close my eyes and rest in peace.
Did You Know?
The 20acre land, on which the Kali temple is built, resembles a hump of a tortoise. The land was divided between Christian and Muslim burial ground.