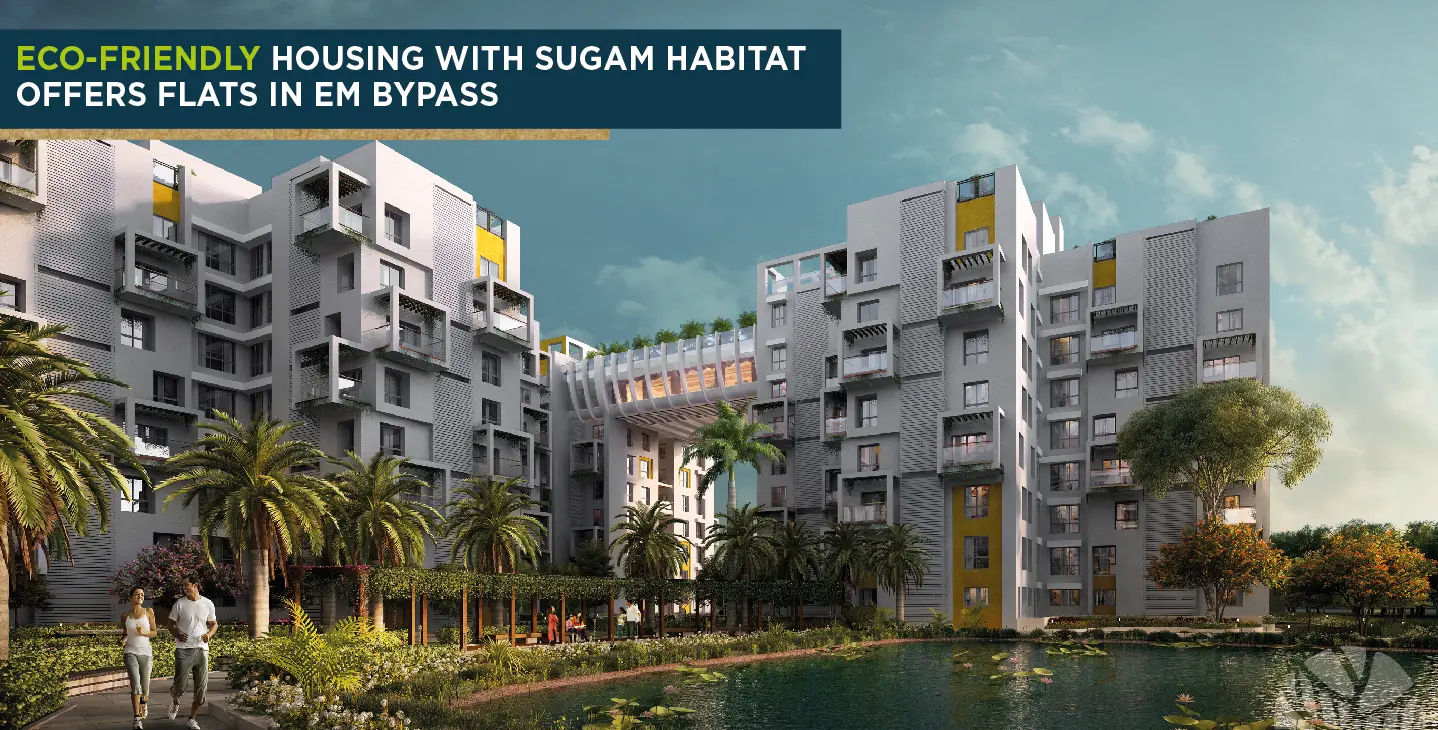 Eco-Friendly Housing with Sugam Habitat Offers Flats in EM Bypass
Did you ever happen to think why every developer in today's world is making sure to incorporate some amount of greenery within the project premises? You cannot deny the fact that our lifestyle is driven by technology and gadgets. Imagine a day without your mobile phone or your laptop or the internet? How difficult will it become for all of us to live the day? However, did you ever think of the effects of such development on the earth? The heat waves emitted from the AC and fridge have destroyed the earth's ozone layer. The erection of mobile towers for the network is killing due to electromagnetic radiation. And cutting of trees? Did it even stop at all?
To support the ever-rising population and to foster a modern lifestyle, such developments are taking a toll on the various elements of nature. Thankfully, there are a few real estate developers who are every step to conserve Mother Nature while building spaces to support the rising population. And when it is about taking care of nature, how can one forget to mention Sugam Homes? A top real estate developer with green running in their DNA, Sugam Homes has always made sure to come up with eco-friendly house construction. This time, they have tapped on EM Bypass to build a home inspired by nature for a lifestyle defined by extraordinary features.
Sugam Habitat- Your Address for Lifetime to Enjoy Nature in its True Essence
It's time to embrace nature to live a balanced lifestyle with Sugam Habitat. A project near EM Bypass with the right amount of nature and modern features experience the finest living environment unlike anywhere else. With flats for sale in Picnic Garden, the project is defined by a calming atmosphere spread across 5.3 acres of land with 65% open space of eco-friendly layout. An address that can be defined as the perfect concoction nature and modern features, Suham Habitat is living up to its claim- 'waves, winds & the quiet of finest luxuries'.
Homes Surrounded by Nature
This time, how about choosing a home defined by nature in the heart of the city, Kolkata. At Sugam Habitat, live a lifestyle where nature will become an important part of your day to day living. With flats for sale in Picnic Garden, enjoy the lush green scenic beauty within the project premises. Get to choose from 2, 3 and 4BHK apartments which are well-built with an excellent layout and top-notch specifications. Longing to experience the leisurely way of living? Live one with your flat in EM Bypass by Sugam Homes.
The Popular Duo- Amenities & Facilities
Since the modern world calls for a modern lifestyle, we cannot overlook the importance of amenities and facilities in any residential project. Experience the best of both the worlds- nature and contemporary at Sugam Habitat with a wide range of amenities and facilities. Specially curated for individuals across all age groups, this eco-friendly housing construction will make sure to provide you with a balanced lifestyle. Make each day filled with fun and recreational activities with provisions such as:
Concierge
Gymnasium
Basketball Court
Indoor Games Room
Open Air Gym
Natural Waterbody
Waterside Boulevard
Boutique Banquet
Expansive Library
Golf Putting Green
Five Senses / Herbs Garden
Japanese Zen Garden
Children's Park
Central Lawn
Palm Garden
A Location So Convenient
When it comes to connectivity and other locational advantages, Sugan Habitat takes the crown. With flats for sale in Picnic Garden, become a part of this much popular address that will not only bring nature to your lifestyle but the perfect urban lifestyle at your doorstep.
Howrah Railway Station – 10.1 km
Sealdah Railway Station – 6.1 km
Birla Mandir – 2.9 km
Acropolis Mall – 3.3 km
Metro Cash and Carry – 4.5 km
VIP Bazaar – 1.0 km
Ballygunge Phari – 2.5 km
Science City – 3.7 km
Calcutta International School – 1.9 km
Do you know what further makes it the perfect eco-friendly housing construction by Sugam Homes? The fact that it is an IGBC pre-certified, which means that the housing complex was constructed using an optimum amount of natural resources along with modern, cutting-edge technology leading to the least amount of waste production. Hence, become a part of the project which is more than luxury and comfort, it is also about the betterment of planet Earth.