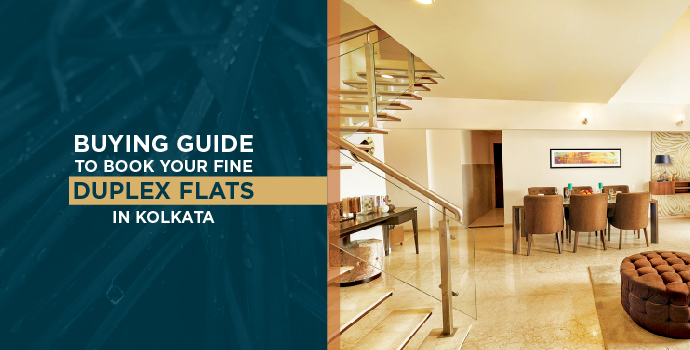 Buying Guide to Book Your Fine Duplex Flats in Kolkata
Imagine getting the benefits of two in one. Yes, it's just like the ice cream, but so much better than that. We're talking about a duplex apartment!
While it looks like an ordinary home from the outside, it actually has two individual houses stacked vertically on top of the other. Both are connected through a common staircase and these are much preferred today.
Its beauty lies in the fact that the ground floor can be considered a separate unit while the floor above can be seen as another. This is the main reason why families choose duplex flats in Kolkata. Often called a multifamily home, families can live in great comfort along with additional space for grandparents and relatives as well.
With this arrangement, rest assured that the benefits of a duplex come in plenty!
Let's take look at the most important ones.
Why is a Duplex Apartment a Wise Investment for the Future?
A duplex home puts forward two incredible opportunities.
One. Double the space equals double the comfort.
Making more room for families, there is an abundance of space to move freely and live conveniently. Moreover, you also have the luxury of having grandparents, as well as other relatives, stay with you.
Two. Double the rooms equal double the benefits.
You can keep one part of a duplex for residential purposes while renting out the other simultaneously. Hence, you can easily earn passive income alongside a better standard of living.
This is precisely where we see the great value of duplex homes.
Whether a modern, spacious home for your family or a way to build wealth through monthly cash flow, it is definitely a smart choice to buy duplex flats in Kolkata. In fact, modern duplex residences also come with better facilities like open spaces, play area and fitness-related areas among others.
And to make sure you get the best one, we've compiled some useful tips just for you!
So here's all you need to know.
A Quick Yet Comprehensive Guide to Buying a Duplex
Be sure of your intentions before the transaction
Analyze the carpet area in accordance with family needs
Check legality through HIRA or RERA number of the project
Browse through the list of amenities for lifestyle needs
Look closely at the list of banks financing the builder
Check for additional charges like parking and maintenance
Ensure that it's strategically positioned and well connected
Buying a home is mostly a once in a lifetime occurrence and you have to get it right the first time. Keeping all these points intact, Sugam Sudhir should definitely be at the top of the list when in search of a flawless duplex home.
Here's WHY.
Sugam Sudhir – The Best Option for a Duplex in Kolkata
Keeping the variety of benefits in mind, leading real estate builders now offer duplex flats in Kolkata within traditional apartment housing complexes. Take the esteemed builder Sugam Homes. Understanding the vital ingredients that constitute a modern and effortless lifestyle, Sugam Sudhir is the embodiment of its philosophy of nurturing the bonds of a family.
Staying true to these words, these luxury apartments in Kolkata are sure to bring great happiness down the line. This is because of a few crucial features:
Quality Outdoor Experiences Now Closer than Ever
Nobody likes stepping outside their comfort zones. Exhausting drives and never-ending traffic has always been a headache, but not when you choose Sugam Sudhir. This housing complex near Garia metro gives you easy access inside the city while the Maa Flyover lies just 5 minutes away. Ensuring that you stay connected with ease, your transportation issues cease to exist with an apartment here!
Making More Room for the Ones that Truly Matter
Family is everything, don't you agree? That's exactly why Sugam Sudhir leaves no stone unturned to ensure that your family finds fulfilment and peace through its well crafted 3.5 duplex flats in Kolkata. Every space inside is designed to offer ample ventilation as well as maximum entry of natural light. Homes are 3 sides open and fully south-facing to give you a living experience unlike any other.
Creating Precious Moments through Handpicked Amenities
The amenities of a residential project are designed to provide leisure and relaxation. In doing so, it helps strengthen the bonds of a family as well as that of community. These luxury apartments in Kolkata offer facilities such as a children's play area, gymnasium, swimming pool with jacuzzi among others. In fact, you'll also find a private family lounge on the second just for you and your loved ones!
Giving You and Your Family the Best of Kolkata's Wonders
Location is the most important factor today. We choose a particular project based on what we can find closely, which is where these flats for sale in Garia win! You'll find that BD Memorial School and Hindustan Health Point can be reached within walking distance. Thanks to its nearness to EM Bypass, Quest Mall and Acropolis are also easily accessible along with a variety of educational institutions.
With these at hand, it's clear that Sugam Sudhir should definitely be your first choice!
Without a doubt, buying duplex flats in Kolkata is a great option. But it's also important that you get a great set of advantages from the deal. Buying a property is always a huge decision and you need to ensure that it will be worth the efforts. With Sugam Sudhir, you can be sure that you've made the right choice and your family will get nothing but the best.
Place your faith in Sugam Homes and see just how beautiful life can be.