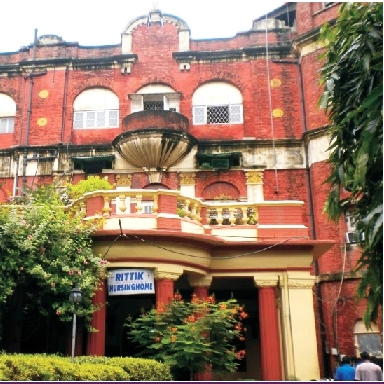 Henry Derozio Whispers of Bengal Renaissance
Henry Louis Vivian Derozio: the name leaps from the pages of 19th century Indian literature. He was a poet who became the headmaster of Hindu college Kolkata. Along with his notable works what remain of his essence is the red brick mansion.
Situated in AJC Bose road, the house of Henry Derozio now contributes as a heritage building of Bengal. The house was first identified around 1998 and since then it has become an important structure for the heritage of Bengal.
What we can identify from outside that it is a three-storey house, now in a dilapidated condition. Red in colour it has contrasting white windows. An elongated balcony supported by bold red pillars and just above it there is another small verandah. It is attached to an adjacent door and its small verandah from outside looks like an inverted dome. And parallel over the top of this verandah lies the arched structure. If closely looked standing just in front of the house, the long verandah, the inverted dome and the high arch shows to be in an exact one line.
The house gives out an eerie feeling due to the lack of maintenance. Though it is not recorded as the eminent monuments of Bengal, it still has its own importance and must not be forgotten.
Did You Know?
It was inside the walls of this house that Bengal Renaissance sowed its first seed. It is not surprising as Sir Derozio was himself a radical thinker.