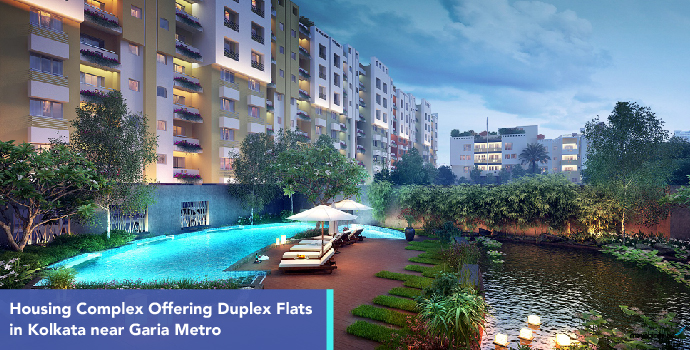 Housing Complex Offering Duplex Flats in Kolkata near Garia Metro
Homes come in a variety of shapes and sizes.
Most of us are familiar with the typical apartment in a residential project. But what about a duplex? These types of homes have two storeys in one single unit and are normally connected by an inner staircase inside. They can be 'side by side' as well as 'up and down'.
When you choose duplex flats in Kolkata, there is never a problem with space. Known to provide families with maximum levels of comfort, these types of homes can accommodate your family, grandparents as well as extended family when need be. Hence, it is also commonly called a 'multifamily' home.
Of course, you can also use it as a source of additional income by letting one part of it on rent. That way, you can have your home loans repaid in no time.
When choosing luxury duplex apartments in Kolkata, its best to choose an esteemed real estate developer and a project that enjoys superb positioning and location benefits. That way, your duplex home will have excellent resale value and will also appreciate at a good rate.
That's where Sugam Homes steps in with its popular Sugam Sudhir.
Let's see what this residential project is all about.
Sugam Sudhir: Winning Both Hearts and Awards for its Duplex Homes
Sugam Homes has been making dreams come true with its vast variety of homes in Kolkata's hotspots. Meeting every modern-day requirement, each of its projects is crafted to upgrade the lifestyle of its residents. This is best seen through its popular creation Sugam Sudhir and its flats for sale in Garia.
This project is known for its indoor as well as outdoor benefits to daily life. Crowned as 'Residential Property of the Year' (2017) and 'Innovative Project of the Year' (2018), you'll surely be taken aback by its stunning features. Those looking for a housing complex near Garia metro will find no better option.
Of course, the major highlight of the project tends to be its spacious duplex apartments. Providing 3 sides open spaces, the interiors of these 3.5 BHK luxury apartments in Kolkata are well-ventilated and enjoy ample natural sunlight. This makes it perfect for families looking to experience a modern yet comfortable style of living. Of course, don't forget the enormous living space that you're entitled to.
Double the Space, Double the Happiness with Duplex Flats in Kolkata
You'll find that these South facing duplex homes will provide the best value for money. Spanning across 160 Cottahs of land area, this gated community comes with stunning perks of its own. You can expect the best of clubhouse facilities when you decide to buy its flats for sale in Garia.
For comfortable strolls and quality time with family, you'll find mesmerizing landscaped areas within your comfort zone to make each day memorable. And yes, there are amenities that are dedicated to all age groups. Children will find a play area that's all about fun and happiness while senior citizens will find peaceful spots to relax.
With this housing complex near Garia metro, the entire family is welcome at the private family lounge on the second floor! A refreshing dip in the pool, a well-lit sky garden for small gatherings, a modern gymnasium to complete those fitness goals – there is so much that you can expect with an apartment here.
Stay Easily Connected With a Variety of Advantages at Your Doorstep
With all these advantages within a secured compound, life is sure to change for the better.
However, there are times when going out is also necessary. Whether schools, grocery stores or medical centres, we have multiple reasons to venture out into the city. Thanks to the expertise of Sugam Homes, these duplex apartments in Kolkata are aptly positioned for easy access to your essentials.
Located at Mahamayatala between Garia and Narendrapur, it provides smooth access to the Eastern Bypass as well as other necessary public utilities. Here is a list of location benefits you can expect with these luxury apartments in Kolkata:
Only 500 mts from BD Memorial School
Wood Square Mall can be reached within 1.6 kms
Hindustan Health Point is just 950 mts away
9 mins away from Kavi Nazrul Metro Station
Project is positioned just 5 mins away from EM Bypass
Of course, the benefits of the EM Bypass now become your own with this project. That means the Maa Flyover can become your everyday route of commute while other names like Quest Mall and St Xavier's College are now accessible without the slightest discomfort. These flats for sale in Garia clearly make life all the more comfortable.
So offering an array of spaces, activities and advantages for every family member, Sugam Sudhir is perfect for those looking to buy a home for the first time. These duplex homes only add to its beauty while connectivity is no longer a concern. Taking a comprehensive approach to modern housing trends, you'll find everything you need for a living experience that's near perfection.
So embrace a lifetime of pure convenience with a duplex at Sugam Sudhir.