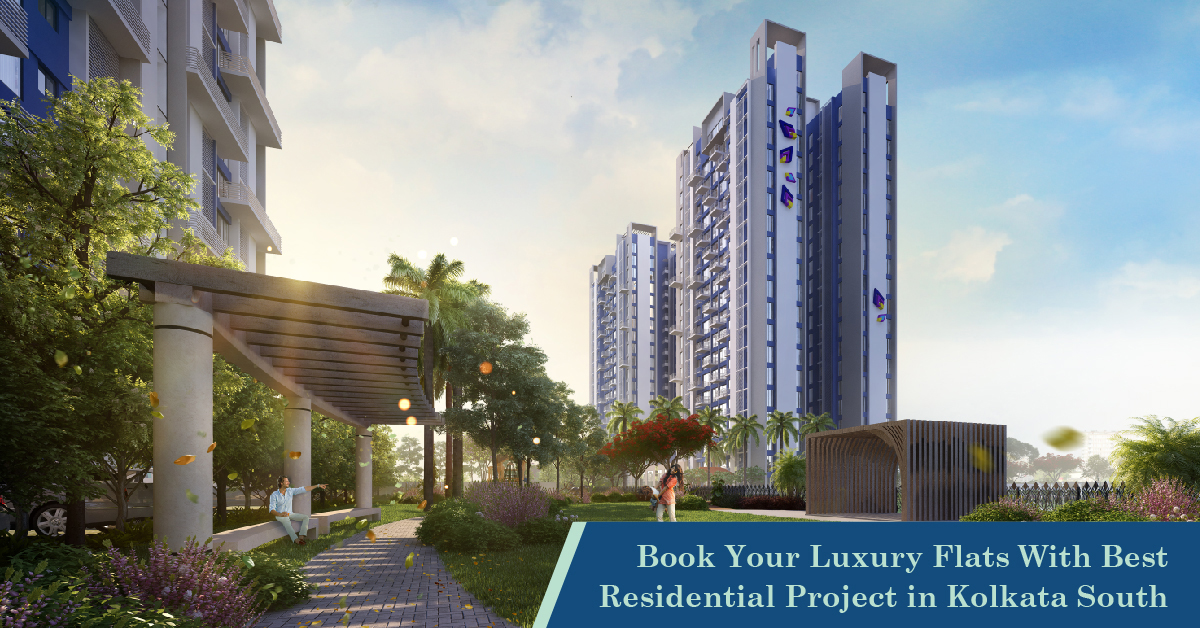 Book Your Luxury Flats With Best Residential Project in Kolkata South
The southern part has always had an edge over the other regions in Kolkata. Hailed as a topnotch residential area, South Kolkata fulfils requirements on all fronts of day to day living.
Blessed with the gift of smooth connectivity, residential projects in South Kolkata benefit from easy accessibility to various parts of the city. You'll find a well-structured metro facility in place along with options varying across rail and road.
Did you know that this region is the hub of the Bengali film industry or Tollywood? It also hosts the second oldest golf course in India, the Royal Calcutta Golf Club. Alongside these, you'll find the National Library, Alipore Zoo and a series of attractions in the nearby areas.
Good transportation routes and mediums, well-known retail outlets and shopping destinations, popular restaurants – flats in South Kolkata truly have it all! And the best way to complete the experience is to have your own residence at a highly rated project in this region.
That's where we see the beauty of Morya.
Identifying the immense benefits of the area, Sugam Homes has laid its roots down with Morya and its 3/4 BHK luxury flats in Kolkata where you can expect to be connected to the best of the city with the utmost ease. Keeping you at the centre of it all, Morya opens up an enchanting world of possibilities that redefines the very definition of comfort we know.
Here's a glimpse at this popular residential project in South Kolkata.
The Dream of a Landmark Address, Now Your Reality
Morya denotes the royalty of a Peacock, akin to the sublime concoction of both nature and luxury. Premium living is a part and parcel here as reflected in terms of living spaces and facilities. This residential project in South Kolkata sets the scene for true harmony and bliss along with ample space inside to capture life's most cherished moments.
As a matter of fact, these apartments are also created along the lines of Vaastu to bring the best in terms of positive energy and fortune. In case that's not enough, imagine the mesmerizing view of the Tolly Club Golf Course just outside your balcony! At Morya, you wake up to serene sights of the panoramic landscape that surrounds your home.
Of course, you can't forget about the amenities. Taking the form of an urban paradise, these luxury flats in Kolkata brings families everything they need for a wholesome living experience. Outdoor exercising area, spa and mini theatre – Morya is definitely the solution for a higher form of living.
Let's take a look at its features.
Splendid Location Advantages
It's all about location and Sugam Homes could not agree more. Choosing one of Kolkata's most coveted addresses makes it the perfect setting for families. Hence, be at the centre of it all with Morya. With its flats in South Kolkata, check out what's nearby:
Schools:Sri Sri Academy, MP Birla Foundation Higher Secondary School, South City International, etc.
Medical centres: RSV, M.R.Bangur, B.P.Poddar Hospital, etc.
Shopping malls: Lake Mall, South City Mall, Tollygunge Club, etc.
Seamless Connectivity
The role of an easy commuting experience cannot be neglected in daily life. Whether a visit to your workspace or an encounter with friends, it's important to be able to get there and back without worries. At Morya, cast those worries aside thanks to the perfect positioning of this residential project in South Kolkata. Regarding connectivity, here's what you will find:
Sealdah Railway Station
Tollygunge Metro Station
Well-connected via road
Exceptional Set of Amenities
Buying an apartment is not just about a shelter. It's about a place that takes care of your health and wellbeing. In this regard, Morya's flats in Tollygunge scores full points! Understanding the ingredients that make up the happiness we seek, here is the list of amenities that you can find at Morya:
Outdoor Exercising Area
Banquet Hall
In-Premise Waterbody with Lily Pond
Pleasant Walkway
Jogging Track
Mini Theater
Luxurious Swimming Pool
Gym & Spa
Cafeteria
Library
Spacious 3/4 BHK Interiors
When it comes down to the actual living spaces, Morya is unmatched in living area as well as décor and outward appearances. Inspired by the resplendent colours and rich textural quality of the peacock, you'll surely be awestruck upon the first impression. Air-conditioned, Vaastu compliant and views that capture attention instantly – expect all with these 3/4 BHK luxury flats in Kolkata.
Embrace a style of living that's filled with the wonders of modernity and nature combined. Unmatched elegance, enviable amenities and a location that's the ideal backdrop – Morya is definitely the place to be! Exceeding expectations and creating a niche for itself, this award-winning project reciprocates your faith with complete fulfilment.
So be a class apart and don't settle for the ordinary.
Book your new apartment at Morya today!