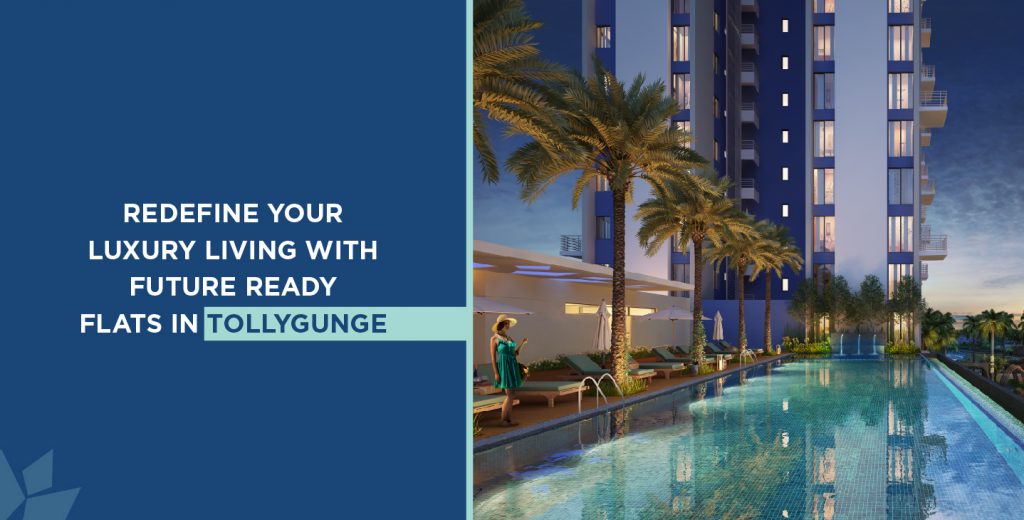 Redefine Your Luxury Living with Future Ready Flats in Tollygunge
It's no secret that Kolkata is one of the top destinations in India that people choose to reside in. Being a storehouse of wealth, culture and education for years, there has always been a huge migration from many corners of the country to the City of Joy.
All because people enjoy the benefits of living in a modern yet cultural hub like Kolkata.
That's primarily why real estate builders have chosen to take advantage of this setting and create their own residential project here. Big names like Sugam Homes have actually done the impossible by creating a perfect balance between indoor and outdoor harmony. You'll find that each of its projects carries a signature of quality and trust, which is precisely why countless families have placed their trust in this esteemed builder in Kolkata.
With a brief understanding of what truly makes a home, Sugam Homes has used Kolkata's most popular addresses as sites for its variety of projects. In fact, this is evident through its flagship project, Morya, which offers king-sized 3,4 BHK flats in South Kolkata. Making room for spacious and unrestrained living, this residential project truly gives you life at the centre of it all.
Here's all you need to know about this award-winning residential project.
Embrace a Lifestyle of Pure Comfort in South Kolkata With Morya
Buying an apartment is not just a financial investment. It's an investment for the future, for our own health and wellbeing as well as for generations to come. That kind of satisfaction is truly created when you opt for luxury apartments by good builders in Kolkata, especially Sugam Homes.
Morya is the embodiment of just how delightful yet peaceful each day can be. Offering flats in Tollygunge, this project is inspired by the royalty of the peacock. This theme is reflected brightly through the vibrant visuals and resplendent colours that add a touch of elegance to every space.
Moreover, this project is smartly positioned for outdoor needs. Whether healthcare or entertainment, necessities or education, you'll find your way across town effortlessly. You'll find that these 3,4 BHK flats in South Kolkata provide great location benefits as well as advantages in terms of commute.
5 Features Which Prove that Morya is One of Kolkata's Best Projects
Morya boasts a splendid set of features that are definitely noteworthy.
Magnificent Views of Gorgeous Greens
Many don't count this as a necessity, but the views from a home are also important when deciding on one. There's no need to think twice when deciding on these flats in Tollygunge. Providing a stunning scenery of the Tolly Club Golf Course, you can fix your eyes on lush greenery from your balcony each day!
Upscale Residential Area With Great Benefits
South Kolkata has always been identified as a top destination for homes. Bringing these advantages to families, Morya's 3, 4 BHK flats in South Kolkata are perfect for a modern lifestyle. You'll find that places such as South City Mall, MP Birla Foundation and RSV Hospital can be reached with ease. With Morya, the best of the city now falls into your reach.
Stunning Selection of Handpicked Amenities
Having an apartment to live in is no longer enough. There need to be facilities that enhance the quality of living while also providing relaxation after a long day's work. This is where the beauty of Morya comes in. These property developers in Kolkata have infused the best of modern amenities into this project. Here's a short list that will shed light on the same:
Swimming pool
Gymnasium
Spa
Walkway/Jogging track
Mini theatre
Outdoor exercise area
Banquet hall
Ample landscaped areas and gardens
Play area for children
Smooth Accessibility throughout the City
Saving time on commute saves hours each day. Understanding the need of connectivity in day to day lives, Morya keeps residences connected with ease. Using one of Kolkata's prime hotspots, all parts of the city can be reached easily. Additionally, you also have the Tollygunge metro facility close by. So say goodbye to your commuting woes by booking a new home here at Morya!
Luxury Residences Crafted to Perfection
Providing the ultimate in space, Morya's king-sized residences are designed to give maximum levels of comfort. These builders in Kolkata have also used Vaastu considerations for your family to dwell in spaces filled with positive energy. Whether through its layouts or through the quality of its interiors, these 3 and 4 BHK homes will definitely prove to exceed each of your expectations.
Hence, it's clear why this project stands as one of its most popular names in Kolkata.
Sugam Homes has created a spectacle that considers every facet of a modern lifestyle. Redefining what it means to live luxuriously, Morya is a testament to how effortless daily life can be, a testament to the finer things in life and a celebration of life's beauty and profound joy.
Witness this beauty firsthand with a new home here in Tollygunge.