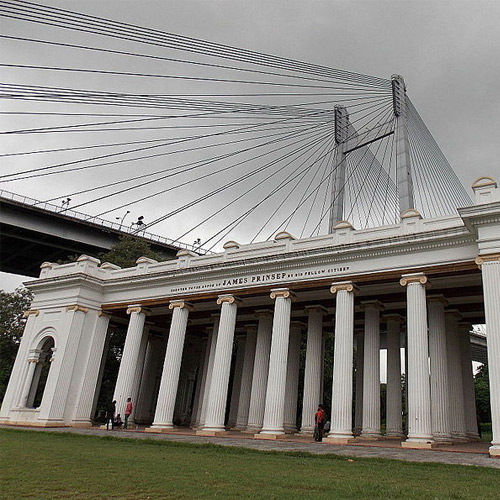 Princep Ghat – The Memory Forever
I am not just a ghat, not just a famous place of Kolkata. It's contribution to this city goes back to the time when it was sutanoti. From travellers to business, to fishing, to bathing, I have seen it all. I have seen the flourishing business of the British era. I have seen the changing times, the rising sea level and how the city that went through an evolution. I was there to remain as the witness.
James Princep, the scholar from England, became closely associated with the Asiatic Society as the secretary. His name got attached with me since the time I was reborn. After his death in 1840, when news of James Princeps death reached Kolkata, it was decided to build a monument on his memory. I was thus given a new name and till today people call me the same. I am Princep Ghat.
Designed by Sir W.Fitzgerald an enormous Palladian was erected on my fields and there I became the historic place of the city of joy. Build in a Greek gothic style, the white structure is supported by several pillars. On four corners of the pillar there are high arched feature constructed. The elongated one storey building in white colour expresses peace and honour. There on its top the message reads ERECTED TO THE HONOR OF JAMES PRINCE BY HIS FELLOW CITIZEN. Standing in front of the Palladian, one can admire the hanging proud structure of the great Vidyasagar Setu. The long stretched gardens and big stairs that meets the river adds more to my beauty.
My glory still remains at its full heights. I am no more a station or a mere ghat, Kolkata and the tourists know me as a famous lovers point.
Did You Know?
The Princep Ghat was a part of Sabarno Roychoudhurys zamindari Lands. Apart from being a lovers point, everyday there are numerous photo walks conducted on Princep Ghat because of its lovely scenic beauty.