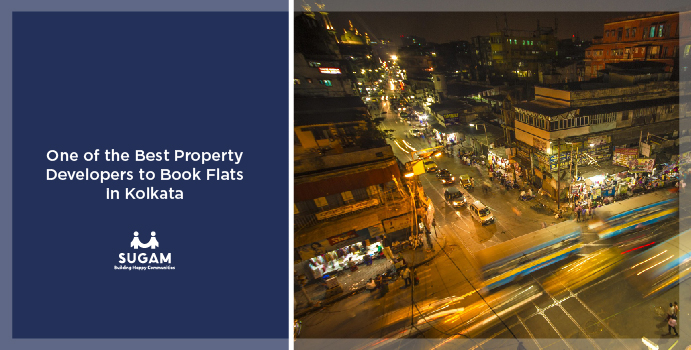 One of the Best Property Developers to Book Flats in Kolkata
Did you check out the property developments by Sugam Homes?
If not, then it is about time to check the same.
Over the years, the skyline of the city has changed. Thanks to the property developers of the city who have taken the effort to bring this change. However, real estate Kolkata has made sure to keep the charm of the city intact. Known as the City with a Soul, Kolkata has the power to bring people from different walks of life on one platform to foster healthy communication. It is a city that enjoys getting drenched in art, culture, literature, soulful discussions and delicious food. And amidst such unique features, stands tall are the developments of Sugam Homes capturing the true essence of the city.
A property builder in Kolkata, Sugam Homes enjoys an excellent work record for more than 3 decades and here why you should check their offerings.
What Makes Sugam Homes Worth Your Attention?
To begin with, Sugam Homes started their journey in the real estate Kolkata sector almost 30 years back. With each passing year, they have made sure to build the pillars of trust with customers, thereby providing a happy community to 5000+ happy residents. With 20+ iconic developed projects (residential & commercial) spread across 2 million sq.ft., Sugam Homes has won 29 regional & national industrial awards to stand out as the best developer in Kolkata. Thus, familiarise with the reasons that make it worth checking out flats for sale in Kolkata by Sugam Homes.
Happy Communities Brick by Brick
Come home to happy communities built by Sugam Homes. A home is much more than living within the four walls of your house. It also goes beyond the four walls where there is a world waiting for us with our second home. This home is the community of other families with whom we interact to build a social relationship. Sugam Homes particularly take care of this aspect. Apart from providing spacious, well-planned, Vastu compliant apartments, their projects are also defined by other outdoor features to foster a healthy social life. Outdoor facilities like a library, Japanese Zen garden, gym, infinity swimming pool, etc. will enable us to indulge in recreational activities while interacting with others.
Home Sweet Home
This property builder in Kolkata believes in providing homes that will enable us to build memories that we can cherish for our lifetime. Step inside the welcoming flats in Kolkata by Sugam Homes with comfort packed rooms, new-age fixtures and fittings and other modern specifications. Additionally, enjoy access to duplex apartments and Vastu compliant AC apartments, all of which are IGBC certified.
Landmark Living
Sugam Homes gives special attention when it comes to choosing the locations of their project. They make sure to tap on a location that will provide excellent connectivity via various conveyance options and the commercial facilities. Familiarise with their projects at Tollygunge, Garia, EM Bypass, and Kamalgazi that will make sure to provide you with the best version of urban lifestyle at your personality.
Home is where the heart is and Sugam Homes rightfully understand this concept. With homes defined by ultimate comfort quotient, check out the apartments of this real estate Kolkata developer to live in your dream home.