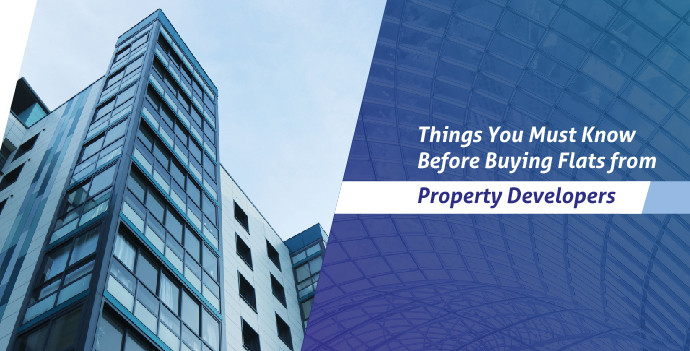 Things You Must Know Before Buying Flats from Property Developers
Nobody buys something just because it looks nice or because of its packaging. You buy it because you need it. You buy it because you understand its value and how it will make your life better. Hence, it is important to have a guarantee of satisfaction whenever you spend your hard-earned money on items or objects. The same also applies to when people decide to buy an apartment from property developers in Kolkata.
However, there is one slight yet significant detail that you must bear in mind – there are no second chances or replacements. A new home is a sizeable investment that tends to last for a lifetime. You need crystal clear clarity before venturing into a subject as big as buying flats in a residential project in South Kolkata.
It's not just about the exorbitant sum of money you spend. Rather, it's also about the lifestyle you settle for and the standard of living you place your hopes in. Hence, fortify yourself with the right information when going forward and make a choice that will benefit your family for years to come.
Listed below are the top 5 things you must know when buying a new apartment.
Super built-up area and carpet area are not the same things
Most often get confused with these terms because they seem similar at a glance. However, there is a big difference! The carpet area denotes the actual floor area inside the apartment. On the contrary, the super built-up area is the sum of the carpet area, built-up area and space of common areas like a lobby, staircase, etc.
Property developers in Kolkata charge on the basis of these numbers. Surprisingly, there was once a practice where some would mislead homeowners by interchanging carpet area with the super built-up area. Hence, they were unaware of the fact that they were being charged more. All this is history but it's always good to know what you are paying for and the amount of space that comes with your apartment.
Access to basic facilities and connectivity is a must
It's all about upgrading to a higher standard of life. That's one of the main reasons why people opt for buying flats in Tollygunge and other areas. But it's not just about what to expect within the walls of a project – it's also about what lies outside. In terms of surroundings, you need to factor in the following:
Educational institutions
Healthcare facilities
Entertainment centres
Parks and open spaces
Grocery stores
Shopping malls
Restaurants, etc.
The credibility of real estate builders and projects must be checked
Do not define a real estate builder by one project alone. It is always wise to take a dive into the testimonials, reviews and other forums to get a fair idea about the real estate builder. Major emphasis should be laid on the presence of a HIRA or RERA number attached to the project. This is a sign of concrete credibility as well as proof of adherence to the rules of the industry.
Alongside this, the list of financing backs involved will also throw light on the popularity of a builder. It will be easier to get a home loan sanctioned when projects have tie-ups with esteemed banks, which also shows that property developers in Kolkata can be trusted. So be alert and keep a check on these basic features before buying flats from developers.
Prime locations are not the only options for apartments
Most only show interest in Kolkata's most prized addresses when it comes to the destination for a new home. But don't just keep your eyes on a housing complex on EM Bypass, Kolkata. The city has developed by leaps and bounds and as a result, neighbourhoods all across the city have evolved as favourable hotspots. It's not just about the central regions – even the outskirts have become beneficial for a modern lifestyle.
Keep an open mind when searching for homes because you may find something beyond your expectations. Evaluate the pros and cons of each area, book site visits if need be – leave no stone unturned since buying a new apartment is a decision that lasts for a lifetime. Whether flats in Tollygunge or Picnic Garden, consider every option before moving forward because the rewards will definitely be worth the wait.
The residential property must be legally authorized before purchase
Often overlooked, it always vital to see if your shortlisted residential project in South Kolkata is legally sound. Always check if the real estate builder has obtained the relevant approvals and NOC's from developmental authorities and local government bodies. Do not enter into formal agreements if the property does not have the needed legal documents and permissions.
Here is a list of what you need to cross-check:
Approvals from the Municipal Corporation, area development authorities, etc.
Title deed (to ensure that the builder has a right over the property)
Encumbrance certificate (to ensure that the land is free from legal dues)
Occupancy certificate (to ensure construction adheres to laws and approved plans)
In all books, buying an apartment from esteemed property developers in Kolkata and becoming a homeowner definitely counts as one of life's biggest achievements. But this is only right when you make the best choice within your means. With a huge amount of money spent plus home loans knocking at your doorstep, the decision-making process is incomplete without these 5 crucial pointers.
After all, we only want the best for ourselves as well as our families, don't we?
You'll find that these small yet effective tips will definitely work to ensure you make the most of your money and get a home that's perfect in every sense of the term.