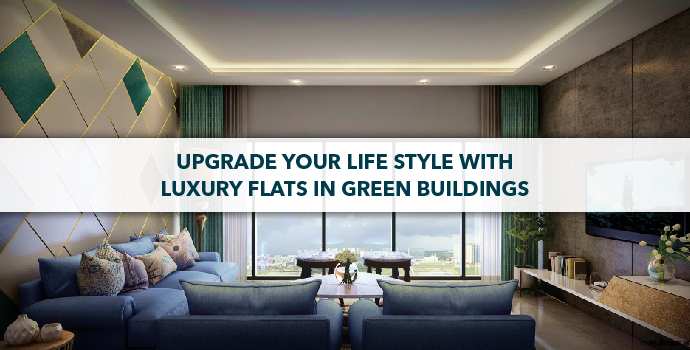 Upgrade Lifestyle with Luxury Flats in Green Buildings
Why has it become so important to resort to Mother Nature in today's world, especially when most of us lack time? Why is adopting an eco-friendly lifestyle gaining popularity?
In today's modern world, even though technology has made our lives convenient, it has its drawbacks. The excess cutting of trees to provide us with a modern lifestyle is basically taking a toll on our health. Poor food habits, lack of body workout, eating in the odd hours and excessive pollution only make things worse. Hence, the only way to reverse the effects is resorting to greenery around the world.
Apart from other industrial sectors going green, the real estate developers are making sure to provide green homes to residents. This is majorly possible owing to the IGBC certification. The developers make optimum use of natural resources with the right concoction of modern technology to reduce the wastage and foster a better environment.
Familiarise with Sugam Homes who have green in their core. With most of their projects being IGBC certified, they are making sure to make Kolkata a better place to stay. With this in mind, they have come up with Sugam Habitat, a housing complex in EM Bypass, Kolkata. Sugam Habitat is an eco-friendly housing construction with an abundance of green and other elements of nature well blended with new-age features. Here's why you must check out this project.
Live the Green Lifestyle with Luxury Flats in Kolkata
Spread across 5.3 acres of land with a lush green garden and natural water body, Sugam Habitat is a land of calmness. Enjoy the 65% open space and modern flats in EM Bypass that makes it the much-coveted address in South Kolkata. It is also an IGBC certified project that perfectly complements its eco-friendly trait.
Green, Luxury Homes
Rebuild your relationship with nature with homes defined by nature. Start your day with the stunning view of lush greenery that will leave your senses feeling relaxed. Choose from stunning 2, 3 and 4BHK luxury flats in Kolkata meticulously designed to suit your comfort quotient. These apartments are extremely spacious, encapsulating the true essence of nature to provide a leisurely way of life. Infused with modern specifications, live a lifestyle that can never be the same anywhere else.
A Pool of Amenities & Facilities
Sugam Habitat is precisely a pool of amenities and facilities required to live a well-rounded lifestyle. Enjoy a ton of recreational activities amidst nature for your well-being. Familiarise with the grand clubhouse facilities and outdoor amenities such as:
Palm Garden
Concierge
Indoor Games Room
Basketball Court
Boutique Banquet
Gymnasium
Golf Putting Green
Expansive Library
Open Air Gym
Central Lawn
Five Senses / Herbs Garden
Waterside Boulevard
Japanese Zen Garden
Natural Waterbody
Children's Park
Location & Convenience
This eco-friendly housing complex in EM Bypass, Kolkata is well-connected by various conveyance options. Additionally, it is close to various commercial facilities as well. With luxury flats in EM Bypass, stay close to places such as:
Birla Mandir – 2.9 km
Science City – 3.7 km
Ballygunge Phari – 2.5 km
Howrah Railway Station – 10.1 km
Calcutta International School – 1.9 km
Metro Cash and Carry – 4.5 km
Sealdah Railway Station – 6.1 km
VIP Bazaar – 1.0 km
Acropolis Mall – 3.3 km
Real estate Kolkata is evolving and Sugam Homes plays a big role in this regard. Sugam Habitat sets a big example for the new generation about the importance of nature in our day to day lifestyle. With style, comfort and convenience in one place, these flats in EM Bypass is your next destination for an ideal lifestyle.