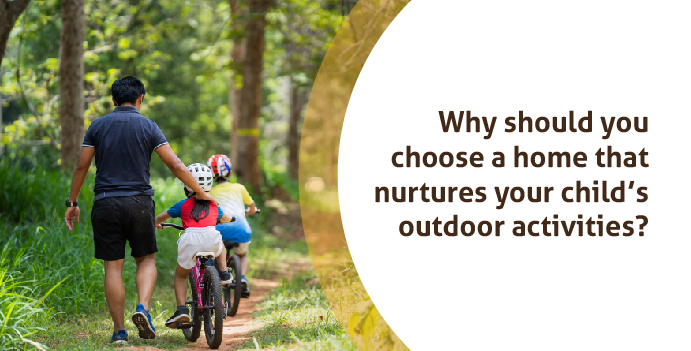 Why should you choose a home that nurtures your child's outdoor activities?
As the effects of the pandemic continue, people are itching for a change of scenery. But no one is missing the outdoors as much as children. Children learn a lot about the world around them through their outdoor interactions and experiences. However, the need to limit outdoor activities because of the risk of getting infected is keeping children from enjoying their childhood to the fullest. Besides, staying indoors means increased exposure to screens; for schoolwork and recreation. One way of providing your children with the best of both worlds – outdoor play while staying safe, is by moving to an apartment that is surrounded by greenery and play area for children.
Here are some benefits of having special outdoor arrangements for children in an apartment: 
Physical benefits
Being outdoors and regular exercise does wonder for your physical health. For children, outdoor games lead to the development of motor skills and muscle coordination. Playing in the sun means soaking in Vitamin D, which strengthens bones and reduces the risk of chronic diseases. Running, jumping, cycling, and other similar activities are fun ways to burn calories and keep obesity at bay. Moreover, spending time amid lush greenery rejuvenates the mind and replaces anxiety with elevated serotonin levels. This is exactly what Sugam Habitat, a housing complex in EM Bypass, Kolkata provides its residents. With a property spread across 5.3 acres of land and over 65% open space, fresh air and homes by a natural waterbody, Sugam Habitat is perfect for those looking for luxury flats in Kolkata. 
Mental benefits
Spending time outdoors is a great teaching moment for kids to develop positive behavioural skills. With the sky as their roof, kids explore the world around them, learn to be more inventive and apply critical reasoning in their day-to-day actions. Being surrounded by nature also improves the sensory abilities of children as compared to kids who spend time glued to mobile or television. Coming up with a game with their friends gives them the chance to dive into their creativity and makes them more curious about their surroundings. 
Emotional benefits
Spending some time off from the rigours of academics is vital for replenishing the senses. Surrounding oneself with fresh air is a direct stairway to happiness and good mood. This is one of the reasons why children enjoy being outdoors. Besides, playing with playmates enables children to develop independence, self-esteem, self-control and confidence. Trying out new activities and inventing new challenges gives them the confidence to explore their strengths and limitations. 
Social benefits
Outdoor activities are all the more fun because they involve spending time with your friends. Learning to work together competitively or games involving teamwork enhance children's social skills. Another benefit of interacting with playmates is improved communication and organisation skills. From following rules to learning cooperation and accommodation, the lessons that children learn from outdoor play go a long way in strengthening their social skills when they grow up. 
Provide your child with a nurturing environment 
As a parent, you want to give your child the best of everything. You want to keep them safe and comfortable while contributing to their growth. And since children spend most of their growing years at home, their surrounding space has a huge impact on them. Therefore, find a home environment that fosters your child's growth should be your top priority while buying a house. Sugam Habitat, a housing complex in EM Bypass, Kolkata is a paradise for your entire family, especially your children. With amenities like a central lawn, library, stellar club, children park, indoor games room, swimming pool – there's so much in store for your little ones. Imagine spending time with your family at the waterside boulevard or seeing your kids get sporty at the basketball court. Your home in Sugam Habitat can make this dream your everyday reality. So, if you are looking for a 3bhk or 4bhk flat in Kolkata, head to Sugam Habitat.