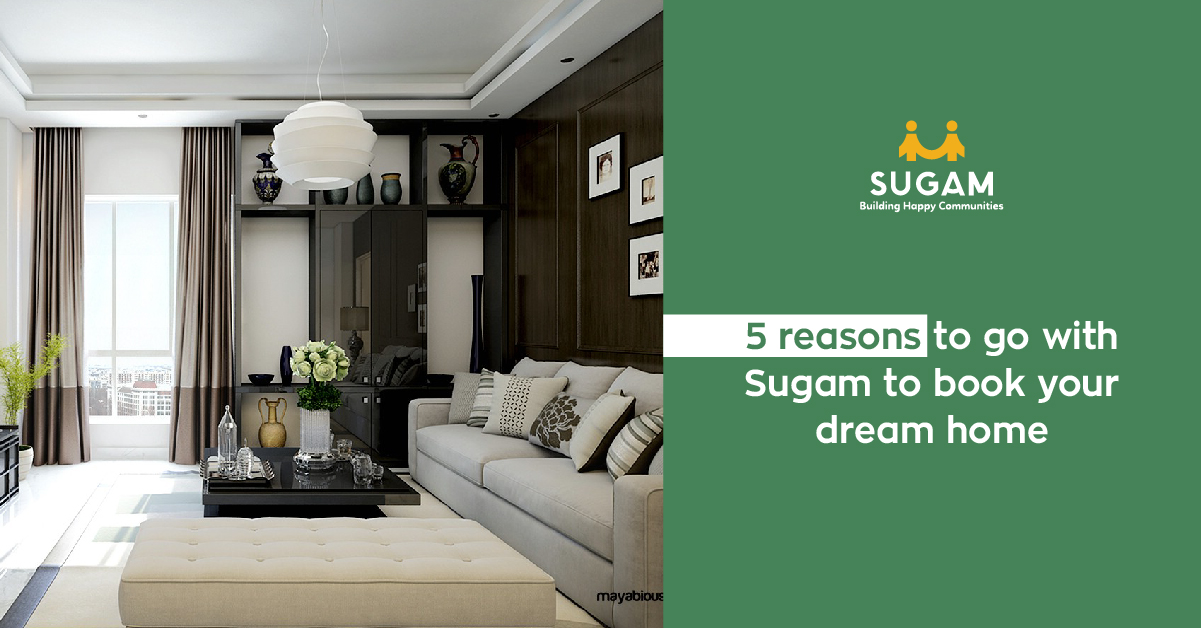 5 Reasons to Go With Sugam Homes to Book Your Dream Home
Whether you're searching for the right outfit, getting the right brand of toothpaste or using the right pen for your needs, it's important that you get the most value from your decision. This mainly includes choosing the right brand to put your faith in. After all, trust is the cornerstone of every decision we make.
It's the same situation when you consider Kolkata's real estate developers when searching for the perfect home. You'll find a plethora of builders upon your search but you'll also find that only a few are worth your attention.
If it's about a trusted builder that puts your needs and requirements first, Sugam Homes is definitely the correct choice for your next home. Being one of the most echoed names in the halls of real estate, their projects have made dreams come true for countless families across the City of Joy. Incorporating the right mix of elements for an unparalleled lifestyle, here are the top 5 reasons to choose Sugam Homes when it comes to your new apartment.
For Adventures Around Every Corner
The pandemic has compelled us to stay at home in order to avoid contact with the outside world. Keeping this in mind, being confined to your interiors can also prove to be difficult. Hence, projects by Sugam Homes come to the rescue due to the enormous amount of open space within the premises for family activities and leisurely strolls.
Perhaps the best example of this is Sugam Habitat and its flats in EM Bypass. What's exceptional about this residential complex is the large portion that it dedicates to nature within its 5.3 acres of land. Giving families outdoor space like never before, here's what you can find inside:
Over 65% open space
Private garden
Natural waterbody
Japanese Zen Garden
Open-air gym
Central lawn
Palm garden
Waterside boulevard
Amenities that Spark Convenience
We all need a break from the complexities of life. Even with the pandemic, daily life hasn't changed all that much. Work from home has become the new normal while online classes have carried on the need for education. Without stepping outside your comfort zone, you'll find a great selection of amenities to provide relaxation and rejuvenation within the premises.
This is evident from all projects by Sugam Homes, mostly when it comes to its prized flats in South Kolkata at Morya. Equipped with the best of the best, daily life becomes more exciting when you take a look at the amenities that are offered here:
In-Premise Waterbody
Swimming Pool
Gym
Jogging Track
Outdoor Exercising Area
Banquet Hall
Mini Theater
Spa
Walkway
Cafeteria
Library
Residences that Reflect Perfection
The interiors of a residential project should also be attractive in terms of both space and design. Since it's the actual living space you will be living in, all eyes will naturally fall on the unit size, entry of natural light and cross ventilation inside the apartment. Here's what you can expect with some of the projects in Kolkata by Sugam Homes.
In this regard, Morya takes the crown with its 3/4 BHK homes which come with stunning features. Inspired by the resplendent colours of the royal peacock, these AC flats in South Kolkata are blessed with the gorgeous view of the Tolly Club Golf Course. Moreover, living spaces are designed along the lines of Vaastu principles so as to bring the fusion of positive energy and healthy living inside.
To Keep You Connected with Ease
In a world where time is everything, nobody wishes to waste it while commuting. Hence, it's best not to underestimate the need for an easy commute in day to day life. Whether meeting relatives in other parts of the city or making plans with childhood friends, it's important to stay linked to Kolkata's corners without worries and hassles. That's where we see the need for easy connectivity.
Sugam Sudhir surely wins in terms of connectivity. This is because of its close proximity to the EM Bypass and Maa Flyover, from where you can reach several parts of the city. With its duplex flats in Garia, you'll also find the Kavi Nazrul Metro Station closeby as well as the Sonarpur Railway Station to keep you easily connected. With these flats in, you can be sure that connectivity is no longer an issue.
The Best of the City Within Proximity
Imagine a lifestyle where you're surrounded by the best that Kolkata has to offer. That dream has now become a reality thanks to Sugam Homes. The smart positioning of its projects paves the way for effortless access to the best of schools, shopping malls and medical centres. Moreover, its residential projects tap on the most lucrative and coveted spots and upscale neighbourhoods.
Here, you'll find Sugam Habitat and its flats in EM Bypass much to your liking. Graced by esteemed schools and medical centres without much distance, here's a list of what lies within reach:
Educational institutions: Modern High, Calcutta International School, etc.
Healthcare facilities: Ruby Hospital, Fortis Hospital, etc.
Entertainment zones: Acropolis Mall, Quest Mall, etc.
So ask yourself, is there really a better developer than Sugam Homes?
It's clear that projects crafted by these esteemed builders have taken every vital aspect into consideration. Sugam Homes has earned the trust of homebuyers due to the stellar quality of residences as well as the advantages that come with each. Choosing only the most advantageous of locations, any project by these prized builders is sure to provide the upgraded style of living you seek.
So go ahead, make your dreams come true with Sugam Homes, Kolkata's most trusted builder!