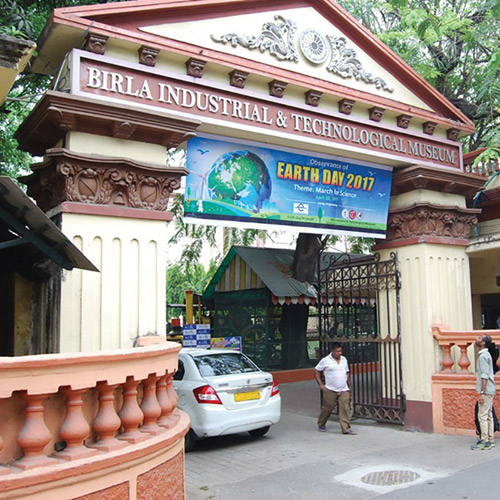 BITM – A Museum for Science
Among the more recent museums built in Kolkata, is the Birla Industrial and Technological Museum, located at Gurusuday Road Ballygunge. Unlike the traditional museums that house historical artefacts, this museum instead, explains complicated, scientific phenomena in amusing and interesting ways. It also tries to create awareness among the general public about various impending ecological issues, hosts training camps and other interactive activities for students and has also been a witness to several lectures by eminent scientists.
According to historical records, the original building of this museum, had once belonged to a person named Mirza Abdul Karim, from whom the Tagores had purchased it in 1898. However, later in 1919, this house was bought by the Birla's and pulled down to construct a new building for residential purpose. G.D Birla had entrusted the architects of N. Guin and Co. to construct the Birla Park in true European style.
It wasn't before 1956, that the five bigha wide Birla Park was converted into the Birla Industrial and Technological Museum, after a suggestion made by the then Chief Minister of Bengal, B.C Roy to meet the growing need for a science museum in the city. It took only three years to covert the palatial residence into the first science museum of the country.
In 1959, the Union Minister, Prof. Humayun Kabir, inaugurated the museum for the general public to enjoy its exhibits. With six initial galleries, the museum opened up a new world of knowledge for the Kolkata crowd. With time, five more galleries were added to the building and a mock coal mine was inaugurated in 1983.
Therefore, if you want a memorable trip through everything from Mathematics to Astronomy, the BITM is your place to be! Welcome to a fascinating world of science!
Did You Know?
With eight satellite units in East India, BITM has revolutionised the way people look at museums.