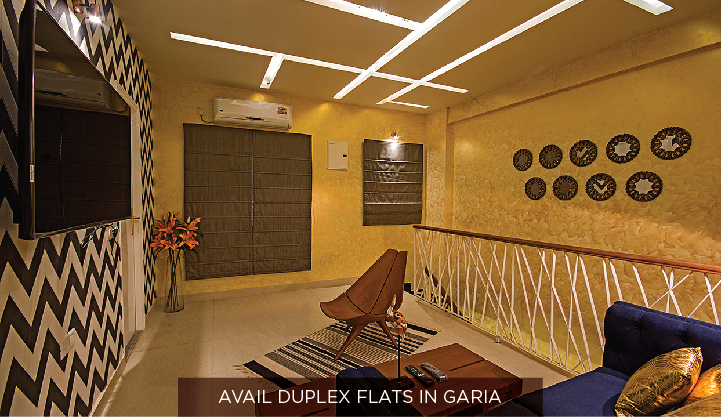 Book Duplex Flats in Garia with Sugam Sudhir Housing Complex
Do you wish to own a duplex flat in Kolkata? To begin with, it is something that most of us wish for as duplex apartments are more spacious backed by a better layout when compared to conventional apartments. Plus, a duplex apartment naturally possesses an aesthetic appearance which upon decoration looks stunning. However, not every project in Kolkata will offer you one that too in a location that will foster a better living standard.
Considering the modern requirements of home-buyers of this era, Sugam Homes has actualized this concept. Not only will they provide you with duplex flats in Kolkata but have made sure to come up with the same in one of the posh locales of the city. What and where is this project? Let us delve into the write-up to know to learn more of the project.
Sugam Sudhir- Your New Address of Dream Home
Step inside the world of Sugam Sudhir where dreams have become reality. Being a housing complex in Garia, the project will bring you the best of everything- project features, connectivity and commercial facilities to provide you with a lifestyle far from ordinary. How? Here are the pointers.
Duplex Apartments, Double the Fun!
Did you ever think of getting duplex apartments in a cream location like Garia? Sugam Homes has turned this into a reality with stunning living spaces unlike anywhere else. Get access to 3.5 BHK luxurious duplex flats in Kolkata spread across two floors. With 3.5 bedrooms, 3 bathrooms and 2 balconies, you can probably fathom how spacious your home will be. Additionally, these flats for sale in Garia are south facing with 3 sides open ventilation, thereby facilitating the penetration of natural light and fresh air in each room. Hence, come home to Sugam Sudhir to own an apartment defined by utmost comfort quotient in every nook and cranny.
Strategic Location, Double the Convenience
For people who have already visited Garia in South Kolkata, you are well aware of the fact that the region imbued with features bring the best edit of urban lifestyle at your doorstep. This housing complex in Garia is undeniably the much-coveted address that will make your lifestyle simpler. It is close to various commercial facilities like schools, healthcare centres, departmental stores, small grocery shops, local marketplaces and the likes. Additionally, the region is defined by various commute systems like buses, autos, cabs and two metro links. Hence, the strategic location of the project will simplify your daily travelling affair along with meeting your day to day requirements with ease.
Modern Amenities & Facilities, Double the Entertainment
Come home to Sugam Sudhir to discover a lifestyle devoid of boredom. The project is infused with an excellent set of clubhouse facilities and other amenities, thereby having something for residential across every age group. Enjoy each day in this housing complex in Garia with features like:
● Exclusive Planter Area- to let you grow some green
● Sky Garden- to enjoy the uninterrupted panoramic view
● Peaceful Senior Citizen Corner- to revisit the golden old days
● Swimming Pool with Jacuzzi- relax at your convenience
● Gym with Modern Equipment- your haven of fitness
● Children's Play Area- a place for your little bundle of joy
● AC Community Hall- where celebrations create memories
● Library- feed your thirst of knowledge
● Landscaped Greens- wake up each day to a green view
● 24 hours Security Surveillance System- your safety, our priority
In a Nutshell…
Sugam Sudhir is a dream residential project awaiting your presence with your dream home. With 150+ families already a part of the project, it's your turn to find your dream home here. Built using cutting edge technology to provide you with an extraordinary lifestyle, what is better than becoming a part of a residential project which is your address of bliss?