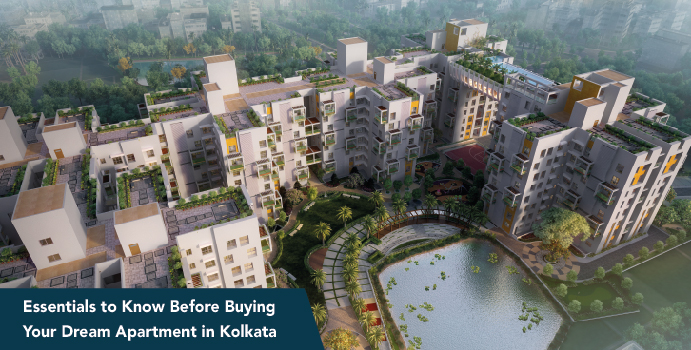 Essentials to Know Before Buying Your Dream Apartment in Kolkata
Someone had rightfully said, 'home is where the heart is'.
One cannot deny the fact that home is probably the only place on earth that happens to be close to our heart. Our homes are filled with the quintessential comfort quotient while beholding tons of memories, thereby qualifying as a special place for us. While a lot of us enjoy travelling around the world, a home can only provide us with eternal bliss. Furthermore, the current pandemic has made it clear home is the only safe place on the earth that can keep us away from anything harmful. Hence, when it comes to buying a home, isn't it wise to do some homework from our end to make the investment worthwhile? Consider these factors before investing in a luxury apartment in Kolkata to give yourself the homes of your dreams.
Did You Check These Before Buying a New Apartment in Kolkata?
#Homework 1: Go for a Realistic Budget
It is essential to set for yourself a realistic budget when it comes to buying an apartment. In Kolkata, you'll find residential projects spanning across various price ranges. However, it makes no sense of choosing a project with apartments priced at 1 crore if you are unable to claim a home loan and pay the interest within the stipulated time. Hence, opt for an apartment that will suit your budget while providing you with the best of features within that price range. Therefore, it is vital to set for yourself the right budget, selecting apartments within that budget, boiling down the many options into a few projects and then finally choosing the one that will suit your requirement.
#Homework 2: Let the Future Determine
Consider the future every time when you buy a new luxury apartment in Kolkata. For example, a new flat in South Kolkata to accommodate your family of two members, you and your spouse. Hence, chances are high that you'll probably look for a 2BHK apartment. However, did you consider the fact that in the future it might become a family of four or five members? Hence, invest in an apartment by looking to your future. Also, if your house is frequently visited by guests who stay for a considerable time, it is wise to book an apartment with a larger configuration so that you can provide them with a room(s) to help them stay comfortable.
#Homework 3: Scrutinize the Surroundings
So you have set for yourself the right budget and have taken your future into consideration, thereby completing the fundamentals for your homework. Did you check the surroundings? If not, then do it. Every region in South Kolkata will not foster a convenient lifestyle. Flats in EM Bypass, Tollygunge, Sonarpur, Garia, etc. are known to provide the residents with an easy lifestyle. A good location should ideally provide you with features such as:
great connectivity
presence of commercial facilities
municipal facilities
safe environment.
#Homework 4: The Apartment Features
A good apartment is defined by a few features that are absolutely necessary to live comfortably. Luckily, most of the luxury apartments in Kolkata consist of quality specifications to promote a better lifestyle. As a buyer, check for features such as:
The apartment design and layout. It should be spacious with a good ventilation system.
The difference between the super-built up area and carpet area.
Other features such as quality of fixtures and fittings, Vastu, open on 2-3 sides, AC apartments, Vastu compliance, etc.
Additionally, evaluate the apartment price with the features being provided. Also, compare the price with other projects in the same area to justify your investment.
Last but not the least, the legal status of the land is significant. The developer is entitled to have documents such as:
approvals and NOCs from the Municipal Corporation
Title Deed
encumbrance certificate
The property must be approved by the Development Corporation and the local body of the city