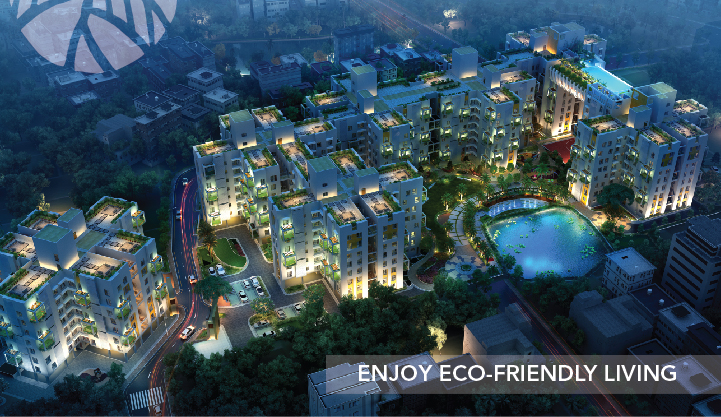 Eco-friendly Living with Flats in Picnic Garden near Em Bypass
The modern, urban living conditions cancel out the presence of greenery and nature from our lifestyle. With each passing day, trees are being cut down to build buildings and other commercial structures to support modern living tied by the string of technology. However, are you aware of the fact that such measures and more are the primary reason for global warming? The bizarre weather conditions and excessive heat is making it a threat to Earth's health conditions. Hence, the presence of nature in our lifestyle is undeniably essential.
Thankfully, the real estate developers are more and more getting aware of the situation. Hence, they are taking measures to provide the residents with greenery as well as modern living spaces, thereby carving out the path towards a healthy lifestyle. One such developer is Sugam Homes– who, apart from providing luxury apartments in Kolkata, is also taking care of mother Nature by making it a point to incorporate ample greenery in their residential projects. One such project of theirs is Sugam Homes and here's how life here will be more than just modern features.
Embrace the Eco-Friendly Way of Living with Sugam Habitat
Give your busy lifestyle the antidote of nature in the green world of Sugam Habitat with flats for sale in Picnic Garden. Shaping up to provide the residents with the finest living experience, it is a stretch of tranquility spread across 5.3 acres of land with 65% open space defined by an eco-friendly layout. Seamlessly blending nature and modern features under one roof without losing the affordability quotient, Sugam Habitat is the perfect destination for the modern you.
Homes Defined by Greenery
Come home to space where nature will become a part of your everyday life. Wake up to a green view each day at Sugam Habitat, thereby keeping yourself relaxed and your mind calm. Get access to exquisite 2, 3 and 4BHK flats for sale in Picnic Garden to take your lifestyle up-a-notch. Here the apartments are being crafted to finesse to provide spacious living rooms with an excellent ventilation system. Experience the leisurely way of life with homes by landscaped garden and natural waterbody for a living experience unlike anywhere else.
Modern Amenities & Facilities
Amidst all the greenery, a touch of modernity is significantly important to strike a balanced lifestyle. Just like any residential project with luxury flats in Kolkata is incomplete without an excellent set of amenities and facilities, the same applies to Sugam Habitat. Hence, the developers have made sure to infuse the project with stellar clubhouse Air and its modern facilities along with other amenities that will foster recreational activities among each individual. With a home here, get access to features like:
● Boutique Banquet
● Concierge
● Expansive Library
● Gymnasium
● Golf Putting Green
● Basketball Court
● Five Senses / Herbs Garden
● Indoor Games Room
● Japanese Zen Garden
● Open Air Gym
● Children's Park
● Natural Waterbody
● Central Lawn
● Waterside Boulevard
● Palm Garden
Strategic Location & its Advantages
This eco-friendly housing project is well-connected by means of commute systems with close proximity to commercial facilities as well. With flats near EM Bypass, become a part of this much-coveted address that will not only bring luxury and nature to your lifestyle but convenience as well.
● VIP Bazaar – 1.0 km
● Ballygunge Phari – 2.5 km
● Birla Mandir – 2.9 km
● Science City – 3.7 km
● Calcutta International School – 1.9 km
● Acropolis Mall – 3.3 km
● Metro Cash and Carry – 4.5 km
● Howrah Railway Station – 10.1 km
● Sealdah Railway Station – 6.1 km
Additionally, the project is also IGBC pre-certified, that perfectly complements its eco-friendly characteristic. So, what are you waiting for? If you are looking for a home built on modern yet eco-friendly ideas, Sugam Habitat is your perfect destination. Come home to a lifestyle that can't be replicated anywhere else.