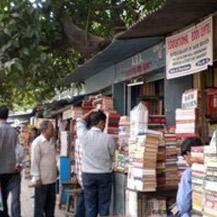 College Street- The Road to Knowledge
If you asked someone staying in Kolkata, where could you buy a very old book currently unavailable in the Oxfords and the Starmarks and the so called sophisticated book stores of the city, you'll be guided to the College Street. It indeed is true that there hardly exists a book which has not seen the face of Kolkatas beloved 'Boi para 'or the book colony.
Being the seat of several colleges, College Street easily derived its name due to the construction of the massive buildings that started providing education during the British Raj. Located between Bowbazar and Mahatma Gandhi Road, the street was formerly known as the Great Arterial Road, until the construction of the Hindu College in 1817. Apart from this college established by David Hare, the College Street is now flanked by the Calcutta University, the Calcutta Medical College, Presidency College, IISWBM and the Sanskrit College. It is also dotted with a few schools.
However, it is the streets massive collection of books- rare, new, multilingual, banned, fiction, non-fiction and so much more- that makes it every bibliophiles paradise! In small stalls, one can get books of any and every kind of his choice, as he makes his way through the largest book market in India and the largest second-hand book market in the entire world!
College street is also the home to several publication houses such as Ananda Publishers, Abhijan Publishers,Dey's Publishing,Rupa & Co.,Katha-O-Kahini,Lalmati Prakashan,Mitra & Ghosh Publishers,Patra Bharati,Purushottam Publishers,Future Publishers & Distributors, etc.
All in all, the College Street makes for an amazing walk down its rich pathways. With its bank of millions of books, there is no debate on the fact that the College Street is surely a road to knowledge!
Did You Know?
An important aspect of the College Street is its Indian Coffee House which had once been the meeting place of several Bengali revolutionaries, who participated in the Indian Independence Movement. Built within the Albert Hall, the Indian Coffee House was also visited by Rabindra Nath Tagore and Subhash Chandra Bose.