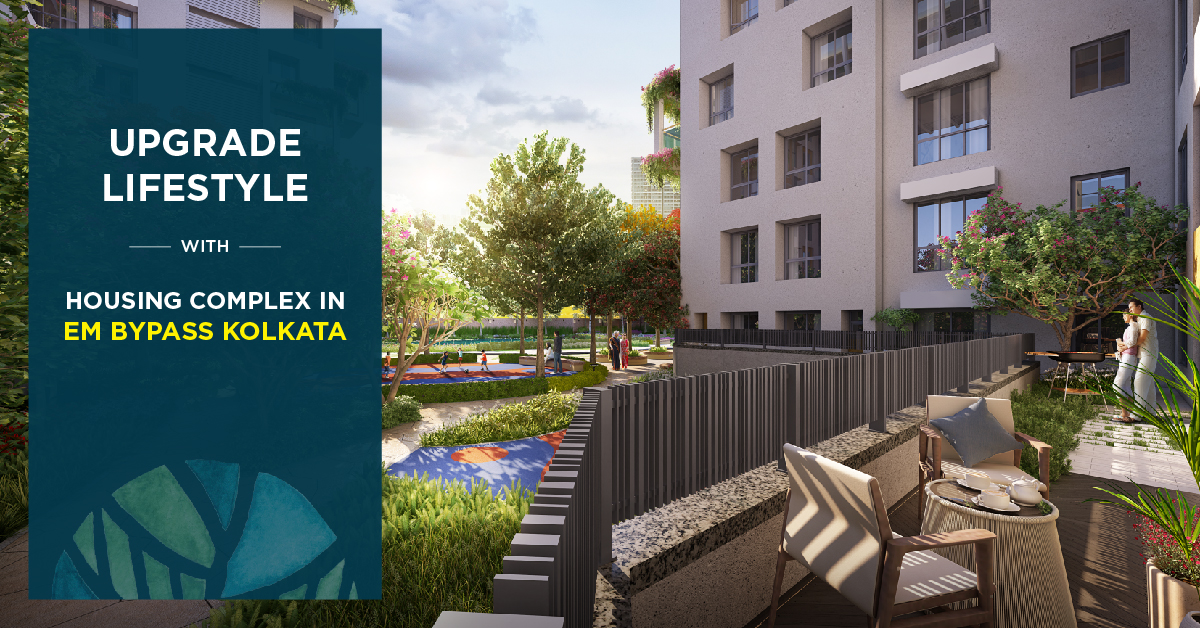 Upgrade Lifestyle with Housing Complex in EM Bypass Kolkata
Dreams are what give life meaning and buying a home is perhaps the best way to make them come true. Everybody wishes to become an owner of an apartment and give their family a life that spells perfection. However, there is so much that you must first take into consideration. Most of all, the aspect of location.
It's no secret that flats for sale in Kolkata are appealing due to the location advantages they offer. This is because of one simple yet fundamental reason – you can change your interior design and set up within the project but in no way can you change the quality of your surroundings. Hence, it's up to you to judge and see which residential areas are most beneficial for daily life.
Turn your attention towards the most prized address of EM Bypass. Being a well-established location in all of Kolkata, the region is geared towards keeping you easily connected to the best of the best. Topnotch educational institutions, shopping malls, entertainment zones, medical centres – you name it and it's already there! As a matter of fact, a housing complex in EM Bypass also benefits from a structured transportation network for an effortless style of commute.
So here, take a look at the numerous advantages of flats in EM Bypass:
Well-connected through several modes of transport
Easy accessibility to the NSC Bose Airport
Close to schools such as Don Bosco, Modern High for Girls, etc.
Fortis and Ruby Hospital can be found within easy reach
Shopping malls like Acropolis and Quest lie nearby
Maa Flyover keeps you linked to every corner of the city
Ready to buy a new home here? Check out why Sugam Habitat is the number 1 choice!
It's Time to Experience a Lifestyle that's Far From Ordinary!
Using the benefits of a housing complex in EM Bypass as its own, Sugam Habitat is an urban paradise of 5.3 acres of land with over 65% open space inside. Built to offer wholesome perfection in living standards, this creation by the esteemed Sugam Homes clearly stands as a class apart among other projects in the same region.
Sugam Habitat offers 2, 3 and 4 BHK flats for sale in Kolkata which comes with a stunning selection of clubhouse amenities. To cater to your needs for relaxation and entertainment, Air: The Hanging Sky Club provides is a wide assortment of spaces and activities to keep you and your family happy and healthy. Here is the list of amenities that you will find:
Gymnasium
Concierge
Boutique Banquet
Library
Indoor Games Room
Five senses/ herbs garden
Children's park
Open-air gym
Basketball court
Besides these, this project also encapsulates the goodness of nature for its residents. These flats in EM Bypass offer a natural water body and waterside boulevard as well as a central lawn inside. Assuring ample green cover and even a private garden, Sugam Habitat provides an ecofriendly environment that's perfect for every member of the family.
In fact, did you know that Sugam Habitat is IGBC Gold Certified?
Giving families everything they need and more, this project has not just won the hearts of countless homebuyers across the city. Better still, it has notched up a few awards and won several accolades in the real estate scenario of Kolkata. Here's a small stroll down memory lane:
Awarded 'Mid-Segment Project of the Year' at the 10th Estate Awards (2018)
Won the title of 'Residential Property of the Year' at the DNA Presents Real Estate & Infrastructure Round Table & Awards (2018)
Secured the 'Best Amenities Project of the Year' at the Golden Brick Awards (2017)
Acquired the title of 'Mid-Segment Project of the Year' at CREDAI Bengal Realty Awards (2017)
Looking at the remarkable features of this project, these awards seem only natural.
Adding the best of living spaces and clubhouse amenities to Kolkata's much-coveted residential area, Sugam Habitat is nothing less than an extraordinary! If it's about a home that's tailormade for true comfort, you'll see that these flats for sale in Kolkata bring the right mix of both nature and modernity. Expect excellence in living standards and a lifestyle that puts your family at the centre of it all.
Only at Sugam Habitat.