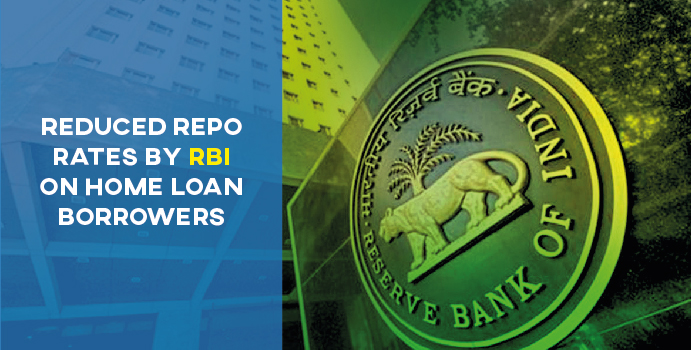 Impact of Reduced Repo Rates by RBI on Home Loan Borrowers
Is the current situation stopping you from investing in your dream home? Or are you worried about the interest rates on the home loan? With recent development made by RBI reducing the repo rates, you can now make use of the opportunity to buy your ideal home within your budget.
The recent reduction in the repo rate by 0.4 per cent which now stands at 4 percent along with the cut in reverse repo rate to 3.35 percent are already sending a positive signal to the real estate sector. RBI has reduced the repo rate by 75 basis points along with introducing numerous liquidity measures during the COVID-19 outbreak to make it easy for the homebuyers to borrow loans from the banks. Apart from cutting the repo rate, the RBI has also prolonged the moratorium period by another three months.
This development has been widely praised by all the stakeholders, including real estate experts and developers. Industry experts have recognised this as a big initiative given the fact that it will ease liquidity for developers by sending out a positive signal to the homebuyers along with enabling banks to lend even more.
How is the Repo Rate Cut Beneficial for the Loan Borrowers?
Existing Home Loan Borrowers
With repo rate cut and cost of funds coming down from banks, loan borrowers will experience the maximum benefit as the EMIs on their home loan and car loan are expected to fall. With the revision in the repo rate, the interest rate on home loan will also get revised within three months. Hence, this frequency of revision of interest rate is expected to be faster for repo-linked home loans compared to loans linked to MCLR-an internal benchmark of banks.
Let us understand how 75 basis points or 0.75 per cent cut in home loan interest rates will impact your EMI and total interest cost.
Let us assume that you have taken a home loan of Rs 35 lakh for 15 years, the savings in EMI and interest will be:
EMI Saved – Rs 1533 ( Annually Rs 18,396)
Total interest saved – Rs 2.76 lakh
New Home Loan Borrowers
As per the Finance Minister, Nirmala Sitharaman, in the Atma Nirbhar Bharat Package, the credit-linked subsidy scheme (CLSS) under Pradhan Mantri Awas Yojana has been extended till March 2021. Under the PMAY scheme, the middle-income group – I (MIG -I) earning between Rs 6 lakh and Rs 12 lakh can get access to an interest subsidy of 4 per cent while the MIG -II with earning between Rs 12 lakh and 18 lakh can avail interest subsidy of 3 per cent under the scheme.
Hence, the recent rate cut will make new loans more economical. However, as a precaution, while applying for a loan, compare between the spread and risk premium imposed by the banks over and above the external benchmark to avail the cheapest interest rate.
With that being said, real estate companies believe that the current development will bring positives for the homebuyers. The situation catering to home loan interest will improve and encourage homebuyers to borrow loans to fulfil their desire of buying a new home.
Is it the Perfect Time to Buy Your Ideal Home Under Sugam Homes?
At Sugam Homes, we understand the sentiment that comes with owning a new home. For more than 3 decades, we have been dedicated to building happy communities which is more than building conventional living spaces. We have always catered to the new-age needs of our residents without letting them forget the essence of the human bond which gives rise to a happy community. Hence, to fulfil your dream of owning a home, at Sugam Homes, we have come up with exciting lockdown offers on our projects. These offers will not only help you buy your dream home but will also carve out the path towards the ideal lifestyle for a better tomorrow.
While we are making sure to build your dream living space brick by brick, the financial institution is also playing its part to help you fulfil your desire. Hence, this is the perfect time to invest in a property under Sugam Homes to give yourself a safe address forever. Now build memories with your close ones while preparing yourself for any further eventuality like COVID-19.