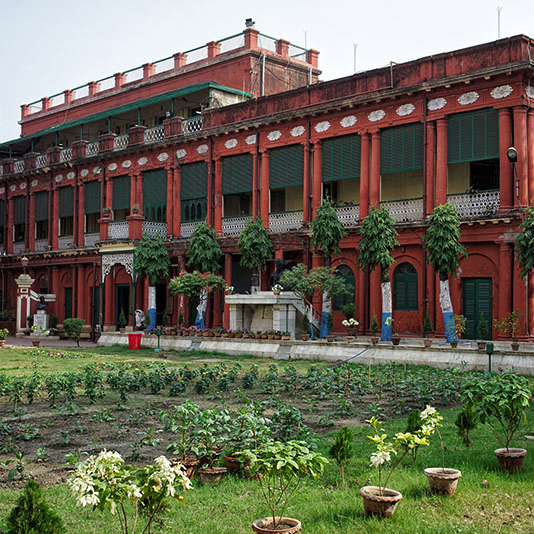 Jorasanko Thakurbari Walls Engraved with Liberty
The ancestral home of noble laureate Rabindranath Tagore, Joransanko Thakurbari, contributes an immense amount to the rich culture of Kolkata involving the Bengal Renaissance and Brahmo Samaj. The stories surrounding the red brick mansion can be dated back to 18th century when it was built by Prince Dwarkanath Tagore, Kobigurus grandfather.
Jorasanko Thakurbari Museum is the home to 2071 books, 770 journals, 16 painting, 3297 photographs, 27 crafts and sculptures, 208 personalia and 53 pieces of furniture.
The mansion, one of the heritage buildings of Kolkata, had started from a small house, and slowly the different wings and alleys were added to the original architecture. The architects that worked towards the building were all British and thus the architecture is largely based upon the Indo-European concept. The main attraction of the house is the west verandah attached with Kobigurus room that has also been interwoven into his writings.
The mansion is built in such a way that from the rounded verandah the house dwellers can watch programs in the natya mancha in the center of the house. Tagores believed that women were also entitled to have free discussions over culture, literature, business, etc. Women of the Tagore household were exposed to poets like Biharilal who used to grace the morning discussions. The outlook of the Tagore family contributed to many a cultural change of the Bengal Society.
For people having a sacred love for culture and creativity, Joranshanko Thakurbari visit will be a boost for their inclinations.
DID YOU KNOW?
We often fine evidences of pardah system in many of Kolkata houses of ancient times but no such pratha was found in the Joransanko Thakurbari.