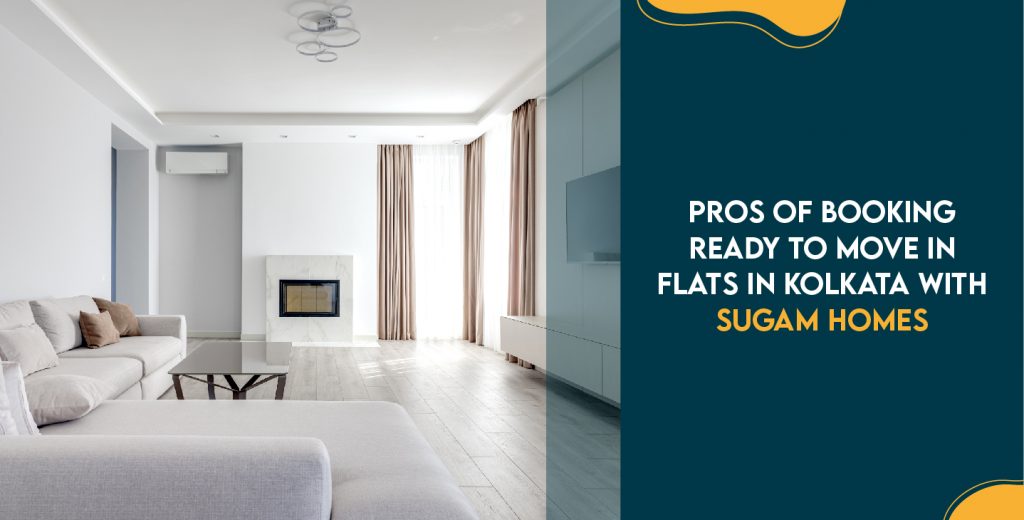 Pros of Booking Ready to Move Flats in Kolkata with Sugam Homes
For many across Kolkata, the ultimate dream is to have a residence of their own in the city. Everybody would like to give their family a lifetime of comfort and happiness, which is why people prioritize residential apartments in the city. Being a once in a lifetime opportunity, it involves a sizeable expenditure which is why it needs to be done right the first time itself.
Keeping this in mind, we can all agree that buying the best apartments in Kolkata is a huge move that needs to be taken with utmost care. However, the same also applies when choosing between ready to move-in homes and under-construction properties.
The choice between these two has always been a difficult one.
Both bring ample benefits to families. But as far as recent trends of Kolkata's real estate scenario are concerned, people are progressively shifting towards ready to move-in homes. Homebuyers think twice before investing in under-construction projects since possession can be delayed and several projects are also left incomplete.
But even as they come with flexible pricing options, there has always been a strong demand for ready to move-in homes. Here's why.
Top 3 Advantages of Ready to Move in Properties Explained
Don't wait – possession takes place immediately
Make the payment, complete your documentation and move in. Yes, that's all there is to it. With ready to move-in homes, there is no waiting period as compared to the long gap between buying and delivery period with under-construction projects. Ensuring immediate availability, it is a hassle-free process for homebuyers looking for the best apartments in Kolkata.
Leave nothing to imagination – get exactly what you see
There's no better feeling when you get exactly what you pay for. That's just the case with ready to move in apartments. These units are ready for inspection and have zero risks of discrepancies with regards to the following:
Layouts of the residences
Features of the project
Amenities offered
Construction quality of the project
Social and physical infrastructure
As compared to under-construction units, there is no chance of potential changes in the future. Buyers are reassured since they actually get what they see. They can cross-check these details before the purchase of these residential units and in that way, they can be 100% sure of what pick.
Habitable yet developed surroundings
With ready to move-in homes, you will know exactly what to expect nearby. In fact, there are better possibilities of developed physical and social infrastructure with these type of homes. With under-construction property, you will only know what's nearby once you actually live in the property. Hence, don't wait for surprises – make an informed decision to get the best apartments in Kolkata.
Due to these reasons, homebuyers have largely come to favor ready units when buying a dream home. And when you consider dream homes, Sugam Homes is always at the top of the list!
Bagging 28 awards with over 25 projects in the real estate scenario of Kolkata, this builder has a proven track record of giving families the comfort they seek. It puts a huge emphasis on upgraded living as well as a lifestyle that doesn't compromise the beauty of nature. Reserving only the best for families, here are a few noteworthy names you should definitely keep in mind.
Must-See Projects Created by Sugam Homes in Kolkata
Morya
Offering ready to move homes in Tollygunge, Sugam has used one of the city's best locations for its flagship project. Here, you can expect vaastu compliant apartments in South Kolkata which are adorned by the gorgeous sights of the Tolly Club Golf Course. Here are a few features of this residential project:
Handpicked set of modern amenities
6 mins from Tollygunge Metro Station
Spacious 3 and 4 BHK AC apartments
80% open space within the premises
Ample green cover and outdoor spaces
Sugam Habitat
The EM Bypass has always hosted some of the best apartments in Kolkata. Including Sugam Habitat. Providing spectacular connectivity and location advantages, this urban paradise boasts a harmonious blend of modernity as well as nature. Listed below are a few features:
IGBC Gold certified Green Building
Enviable clubhouse amenities
Close to Ruby Hospital and Acropolis
Top schools within easy reach
Well-crafted 2/3/4 BHK apartments
Sugam Sudhir
When looking for the best apartments in Kolkata, it's important to look at duplex flats in Garia as well. Obviously, there's no better destination than Sugam Sudhir for the same. Located in Garia off EM Bypass, this popular project offers a few stunning features:
Posh clubhouse facilities available
Luxurious 3.5 BHK duplex apartments
Well-connected to the best of Kolkata
3 sides open and ventilated homes
Easy access to Kavi Nazrul Metro Station
Considering the advantages of ready to move in flats, it gets even better with an apartment crafted by Sugam Homes. Providing everything that modern living entails, this reputed builder puts forward a variety of advantages for those looking to make their dreams come true.
So if it's about giving your family the best, pick your new apartment at any of these projects by Sugam Homes! Book today!