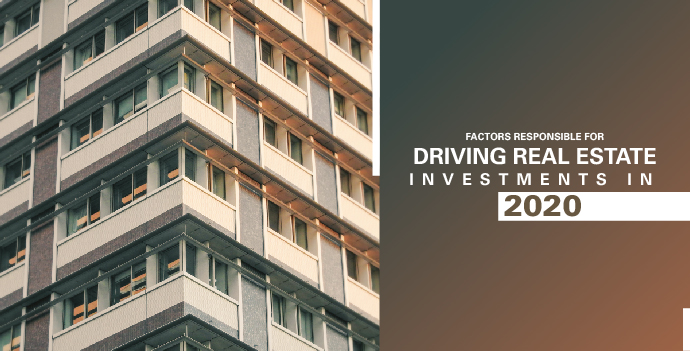 Factors Responsible for Driving Real Estate Investments in 2020
If there's one thing that we've learnt in 2020, it's the importance of a home.
The need for security. The need for living in a gated community. The necessary tools that create harmonious, easy living. Buying a home has always been on the lists of people and its true necessity has definitely been highlighted this year.
Hence, there have been genuine homebuyers that have taken advantage of this situation. Reduced demand, lower housing loan interest rates, attractive discounts and freebies thrown to families. You'll find that there are just so many strong valid reasons to buy and invest in Kolkata's real estate properties during this period.
So if you're wondering if this is the right time to do so, here's a look at a few vital factors that have driven real estate investments this year.
Unique Situations Present Unique Opportunities:
For the first time ever, personal health and safety have assumed the utmost importance in life. People stay in and restrict outdoor movement to a minimum and only leave when necessary. Modern gated communities do not have these restrictions since it provides a safe environment with every convenience inside.
Hence, when choosing the best apartments in Kolkata, people are considering these options for residential as well as investment purposes and the other features definitely show why it is a more lucrative option in 2020.
More Affordability Equals More Interest by Customers:
Another significant factor affecting real estate investments is the freebies and lowered prices of properties. Whether through free benefits or cashback policies, developers have left no stone unturned to boost sales and continue their business in Kolkata's real estate scene. The external help by the government and RBI have also proved vital.
Their combined effort has helped to make aid this affordability. This is recognized by their decision to slash home loan interest rates as well as stamp duty charges. Even as the odds are against us, fulfilling dreams of homeownership is still possible.
A Safer Option With Major Benefits Down the Line
It's no secret that stock markets have crashed and investments are seemingly unreliable during this current period. Despite this, investors have always favoured real estate properties and Vaastu compliant apartments as a safe option for investment purposes. It provides a variety of benefits: Tangible assets, homeownership, passive income through renting, etc. Hence, it is one of the most influential reasons that drive real estate investments even now.
Sustainable Housing is the New Way Forward
As per official regulations, a 20 second handwash has proved effective in keeping the virus away. However, one crisis should not lead to another – a massive shortage of water. Keeping reasons as basic as these, the government has prioritized sustainable projects while urging developers to incorporate the principles of green living into their projects.
This is preferably why a green building with eco-friendly features receives more assistance from the government. Hence, this helps builders in terms of delivering projects quicker and assuring buyers of a better standard of living.
This situation can also been seen as a blessing in disguise.
There are signs of recovery and a revival is definitely underway with the new normal in mind. Even though the real estate sector has taken a toll, these several factors listed above are expected to help both Kolkata real estate builders as well as homebuyers in their endeavours. Meanwhile, the actions by the government, RBI and builders will surely yield promising results in the following months ahead.
So this current scenario may not be as grim as it seems.
In fact, it is an ideal time for investors to jump and make the most of this opportunity.