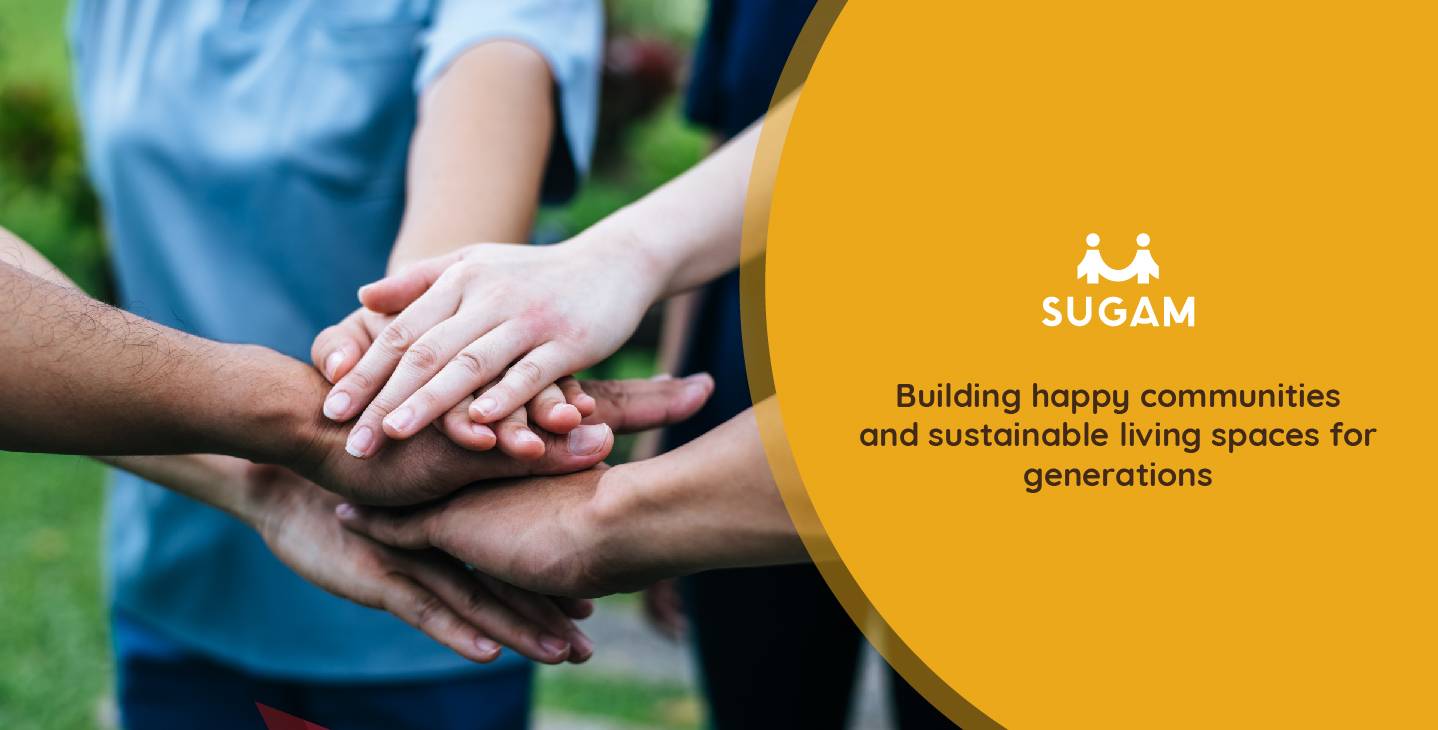 Sugam Homes: Building happy communities and sustainable living spaces for generations
The foundation of Sugam Homes was laid three decades ago with the vision of creating something that not only suits the present but also flourishes in the future. Our idea was to build spaces that nurture the bond of a family by creating a positive and happy environment. Equally important to us, was respecting mother nature and being sensitive to her needs. Therefore, we abide by a green mindset and technology in all our projects. From architectural methods and design elements to construction materials, we take an extra step to be kinder and sensitive towards the environment. Our core motive is providing families with a thoughtfully crafted home, that is an amalgamation of nature and contemporary features.
Modern homes with a sustainable approach
In today's progressive world, a green generation of Indians are opting for sustainable choices in their everyday life and are taking environment-conscious decisions. Upholding a similar spirit, at Sugam Homes, we go beyond just waving a green banner with visible amenities like lush gardens and water bodies. Our projects are amongst a handful to receive the Indian Green Building Council (IGBC) certification, so when we say that 'green is in our DNA', we mean it. With building materials that best suit the air and temperature, our living spaces comply with green norms focused on reducing the carbon footprint. So whether it is the reduced dependency on air conditioners or architectural designs that make way for nature, we've been building sustainable spaces for years.
A home for all 
Besides our endeavour to care for the environment, we are equally committed to providing homes that families can enjoy for generations. Home is where the family is; it is a comfort territory that provides warmth and affection and a physical boundary where a family grows together. And in India, having one's own home is a lifelong dream for many, an evergreen investment that ensures future security. Understanding this, we make sure that our properties are built with the best of everything and have something for every family member. Be it a park for elders, a gym of youngsters and middle-aged or playground for kids, at Sugam Homes we cater to everyone's needs. Buying a dream home is a step towards new beginnings, and to enable this, we build our every home with tradition, imagination and love.
A proud heritage
30 years of real estate legacy and strong buildings has won us the trust of over 7000 satisfied residents, along with 28 awards. From winning the Budget Housing Project of the Year at Golden Bricks Awards to the Best Upcoming Residential Project of the Year – Global Real Estate, there's a reason why we've earned a reputation of 'Pioneers in Affordable Housing in Eastern India'. Nothing brings us more joy than creating relaxing havens, and our prime properties have time and again been recognised as pioneers in myriad fields, such as:
Sugam Serenity – Budget Housing Project of the Year – Golden Brick Awards
Sugam Sabuj – Budget Housing Project of the Year – CREDAI Bengal Realty Awards 2016
Sugam Habitat – Best Amenities Project of the Year – Golden Brick Awards
Sugam Sudhir – Residential Property of the Year – Realty Plus
Morya – Most Admired Upcoming Project of the Year – ET Now Presents Star of the Industry Awards (For Excellence in Real Estate Sector 2018)
Sugam Park – Integrated Township Project of the Year – Global Real Estate Awards 2018
Adorning the vibrant landscape of Kolkata are over 25 projects that breathe life to our dynamic philosophy. Our housing complexes also include luxury flats that compliment an urban lifestyle with opulent designs and modern facilities. While each property imbibes a unique personality, a common thread that ties them is their holistic approach to nurture families. Thus, we take immense pride in bringing together families and help turn moments into memories. So, take a step towards a better future by visiting Sugam Homes properties, or as we like to call them, your dream home.