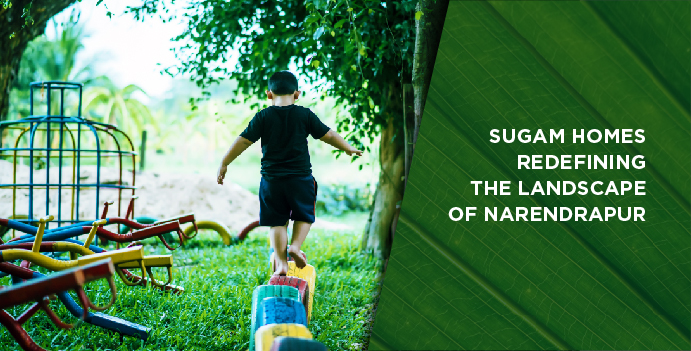 Sugam Homes- Redefining the Landscape of Narendrapur
Narendrapur is a developing region in Kolkata defined by connectivity via three modes of conveyance. The region embraces connectivity via rail, road and metro to other parts of the city. The region is full of greenery and free from environmental hazards. The foremost integral part is, the region is connected with other business hubs by E.M. By Pass & proposed smart city Baruipur.
If you are looking for a locality complemented by a calm surrounding along with good connectivity with EM Bypass and nearby metro links, Narendrapur is your ideal location.
The Boom of the Region
Narendra-Pur (South 24-PGNS) is becoming a modern residential hub in South-Kolkata. The easy gateway via EM Bypass to the airport, Salt Lake Electronic Complex and City Centre is giving every reason to the IT workers to buy an apartment here. Its lush green surrounding is ideal for peaceful living away from the hustle and bustle of the city, however, is not far away from the CBD.
How are the Real Estate Players Changing the Region?
Narendrapur is defined by a cool and a calming environment, with tons of greenery not easily seen in any city. This aspect is amazing considering its proximity to Garia, the hub of a busy market area and metro stations. This is exactly what real estate developers in Kolkata are playing with to come up with exquisite residential projects.
If you check out the projects in Narendrapur, most of these projects are imbued by lush greener, spacious apartments, open spaces and an excellent array of facilities and amenities. Additionally, the various connectivity options along with the presence of commercial facilities are enabling the real estate developers to come up with modern residential projects to complement the new-age lifestyle.
Narendrapur as from the Eyes of Sugam Homes
Sugam Homes, a renowned real estate developer, are known to select their project locations that will provide the residents with a well-rounded lifestyle. With projects in Narendrapur, Sugam Homes is making sure to provide the homebuyers with a lifestyle worth every penny of investment. Their projects Sugam Sabuj and Sugam Park are breaking the stereotype catering to this region. Both these projects are defined by greenery to the core along with stellar apartments and best in class facilities. Come home to these projects to explore the wide range of facilities and amenities to foster a lifestyle unlike anywhere else. These projects are specially crafted to provide one the best of both worlds- nature and modern-day conveniences, thereby complementing the new-age lifestyle for your lifetime. Additionally, the excellent connectivity and presence of commercial facilities in this region will further provide the homebuyers with a well-rounded lifestyle to help meet one his/her day to day requirements with ease.