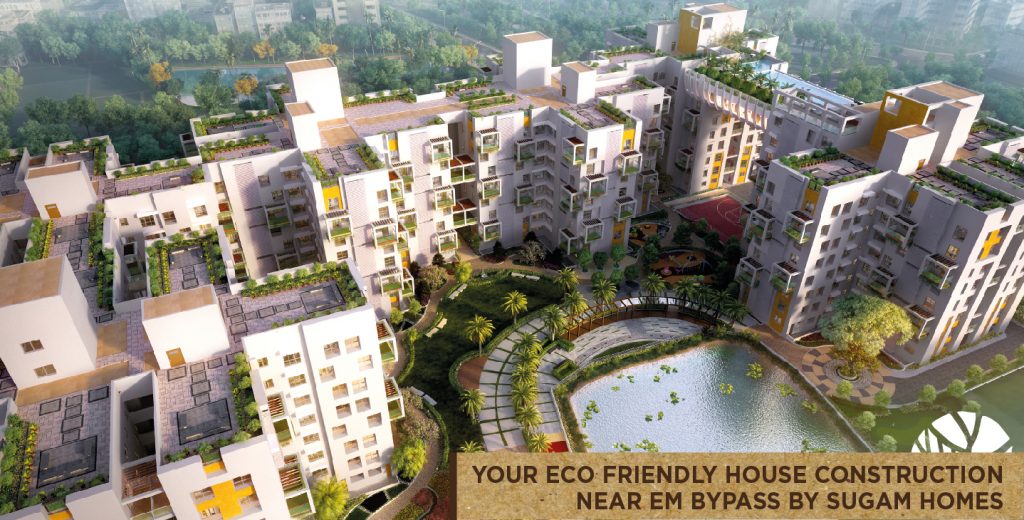 Your Eco-Friendly House Construction at Em Bypass by Sugam Homes
Are you looking for an eco-friendly residential project in Kolkata? You have to admit that it is quite tough to find one, especially in a metro city, right?
The increasing pollution and environmental hazard are compelling people to adopt the eco-friendly way of living. 'Go Green' has become the motto for a plethora of individuals as people are ditching the unhealthy habits to lead a wholesome lifestyle. The world is slowly becoming vegan, not just in terms of eating but also when it comes to using cosmetics and choosing garments. Hence 'eco-friendly' is the new trend in today's world.
Recognizing such changes or developments, the real estate players are also making sure to follow the trend. Getting their project IGBC pre-certified is the first step they are taking towards building their projects using sustainable measures. Making optimum use of natural resources along with modern technology is the first initiative towards an eco-friendly housing construction backed by other features. Gladly, Sugam Homes is one of the few real estate developers in Kolkata to follow this notion. They will not only bring you modern living spaces but provide you with the same within a sustainable environment. Here's one of their projects that give special attention to an eco-friendly way of living amidst all the urban chaos.
Sugam Habitat- Where Nature Meets Urban Lifestyle
It is time to give your lifestyle some eco-friendly renovation at Sugam Habitat with flats for sale in Picnic Garden. An upcoming residential project with the finest features, redefine your relationship with nature here to lead a healthy lifestyle. Spread across 5.3 acres of land with 65% open space defined by greenery and other elements of nature, life at Suham Habitat is unique itself. A perfect blend of nature and modern features, here's why this project by Sugam Homes is your next big destination to your dream home.
Discover Comfortable Living with Homes Amidst Nature
With an apartment at Suagm Habitat, embrace nature to make it a part fo your everyday life. With apartments overlooking the landscaped garden, wake up to a lush green view to give you day a fresh start while keeping your mind relaxed. Get the benefit to choose from 2, 3 and 4BHK flats for sale in Picnic Garden within an unbeatable price range. With apartments crafted to perfection, experience the ultimate comfort quotient with spacious rooms defined by an excellent ventilation system.
Discover Perfect Living with Modern Amenities & Facilities
Our urban lifestyle would be incomplete without the touch of modernity in it. Just like any residential project in today's world, Sugam Habitat comes with a range of clubhouse amenities and other facilities to make sure to provide the individuals with a well-rounded lifestyle. An eco-friendly housing construction, get access to features like:Boutique Banquet
Waterside Boulevard
Gymnasium
Expansive Library
Five Senses / Herbs Garden
Golf Putting Green
Indoor Games Room
Japanese Zen Garden
Basketball Court
Open Air Gym
Children's Park
Central Lawn
Natural Waterbody
Palm Garden
Concierge
Discover Convenient Lifestyle with the Strategic Location
Sugam Habitat with flats for sale in Picnic Garden is well-connected by various means of transportation. In fact, it is so strategically positioned that it will also keep you close to EM Bypass. Hence, you can also say that the project provides flats in EM Bypass, thereby bringing you the benefits of both the regions. Additionally, the project is close to commercial facilities like:
VIP Bazaar – 1.0 km
Acropolis Mall – 3.3 km
Metro Cash and Carry – 4.5 km
Birla Mandir – 2.9 km
Science City – 3.7 km
Calcutta International School – 1.9 km
Ballygunge Phari – 2.5 km
Howrah Railway Station – 10.1 km
Sealdah Railway Station – 6.1 km
To suit its eco-friendly construction quotient, Sugam Habitat is also IGBC pre-certified project, thereby bringing you the best of green living under one roof. It is not easy to find a residential project in a city like Kolkata that will bring you an eco-friendly way of living. However,  Sugam Habitat by Sugam Homes has taken care of this concern as well.