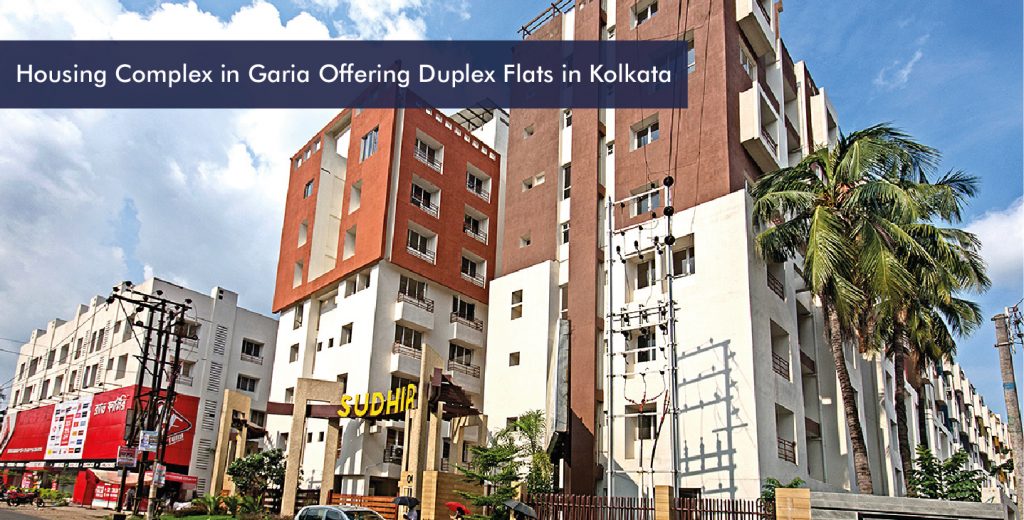 Housing Complex in Garia Offering Duplex Flats in Kolkata
While duplex apartments have been there for quite a long time, recently it is becoming a trend in Kolkata and popular among the residents of Kolkata. Owning a duplex apartment in Kolkata is a whole new experience. Such apartments are defined by unmatched classy appearance spread across two floors, thereby bringing you double the fun of dwelling in a modern apartment in this modern time.
Fulfil your desire of owning a duplex flat in Kolkata with Sugam Sudhir, a brainchild of Sugam homes with flats for sale in Garia. The project will not only provide you with luxury apartments in Kolkata but also an amazing set of other features, thereby making it the ideal destination for your dream home in a cream location.
Welcome to Your Address to Duplex Apartments at Sugam Sudhir
Discover Sugam Sudhir, a housing complex in Garia, standing tall to provide you with an extraordinary living experience. Not just will you find excellent features within the project but also convenience outside the project premises owing to its pristine location. With luxury flats in Kolkata within an unbeatable price range, become a part of this project to get access to an array of features. What are these features? Here they are!
Well-Crafted Duplex Apartments
What can be better than fulfilling your dream of a duplex apartment in a region like Garia? Thanks to Sugam Homes for thinking it out, thereby not only providing homebuyers with spacious homes but a convenient location as well. Enjoy your days in 3.5 BHK luxury apartments in Kolkata across two floors. Get access to 3.5 bedrooms, 3 bathrooms and 2 balconies, thereby enjoying the true essence of spacious homes like never before. you can probably fathom how spacious your home will be. To take things up-a-notch, these flats for sale in Garia are facing the south and are open on 3 sides. The ventilation system is excellent, thereby promoting the entrance of natural light and fresh air in each room. When it is all about the right comfort quotient, nothing can possibly beat the Sugam Sudhir duplex apartments.
Tapping On the Right Location
Garia is one of the most popular and well-established regions in South Kolkata. From consisting of a bus depot with buses to various routes to having two metro links, the region will definitely simplify your daily travelling affair. It is also defined by essential commercial facilities like schools, healthcare centres, departmental stores, small grocery shops, local marketplaces and the likes. Additionally, with an abundance of relaxation spots, cafes and restaurants, spending time with your close will be left sorted with this housing complex in Garia.
A Myriad Amenities & Facilities
Familiarise with an excellent set of clubhouse facilities and other amenities, thereby leading a lifestyle devoid of boredom at Sugam Sudhir. Get access to features like-
Sky Garden
Exclusive Planter Area
Peaceful Senior Citizen Corner
Gym with Modern Equipment
Swimming Pool with Jacuzzi
AC Community Hall
Library
Children's Play Area
24 hours Security Surveillance System
Landscaped Greens
Sugam Sudhir is indeed the most coveted address in Kolkata. With flats for sale in Garia, the residential is worth a checkout. Join the 150+ happy families here to lead a blissful lifestyle for your lifetime.